This vehicle got away! Don't miss the next one by subscribing to the model:
BMW Serie 3 e46
BMW 332xi Supercharged - 2003 *No reserve
Secure Payment
What BMW eats 911 Turbo for breakfast with a boring family wagon look? None. The Bulgarian wizard we found for you didn't agree with that. Hence his unique creation: the BMW 332xi. The ultimate sleeper is right in front of your eyes, it still has 4 wheel drive, and its "325" family-friendly badge. Be the nightmare of supercar owners, treat yourself to this unique and demonic BMW. No reserve price, you decide the price of its 551hp.

Benzin
Displacement
3.2 (modified)
Location
Bulgaria, Plovdiv
Car registration
Bulgarian
Presentation
This 2003 BMW 3 series touring from Switzerland is a second hand car with 200.000 km. The seller states that the car is in good general condition, has a valid Bulgarian Technical Control and has had recent and regular service. This BMW, originally a 325xi touring, has been equipped in 2020 (6000km ago) by its current owner with a M3 e46 engine S54B32 assisted by a compressor ESS-VT525. The chassis, brakes, gearbox and differentials have been extensively modified with performance pieces. Photos of this preparation are documented in the gallery.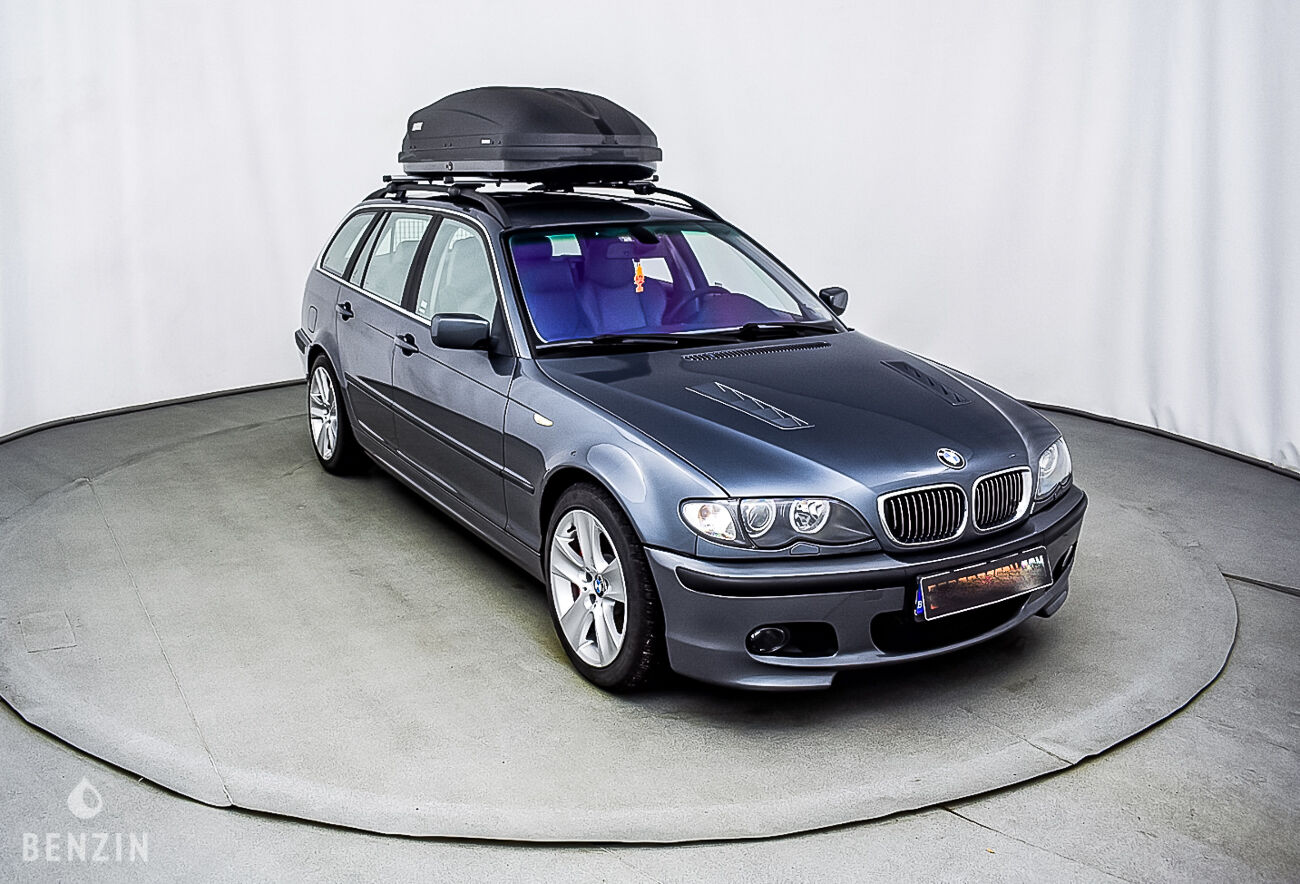 On the outside, the car is in good condition. The paint in its gray shade has only a few visible flaws in the gallery. The seller indicates that the front bumper has been replaced for a Mtech with fog lights, including covers. The hood is equipped with aftermarket air intakes. The exterior plastics and seals are in good condition, as are the headlights. The seller indicates that the headlights have been refurbished and Angel eyes "RGB Halo cotton" added in the process. Pictures of the undercarriage are available in the gallery.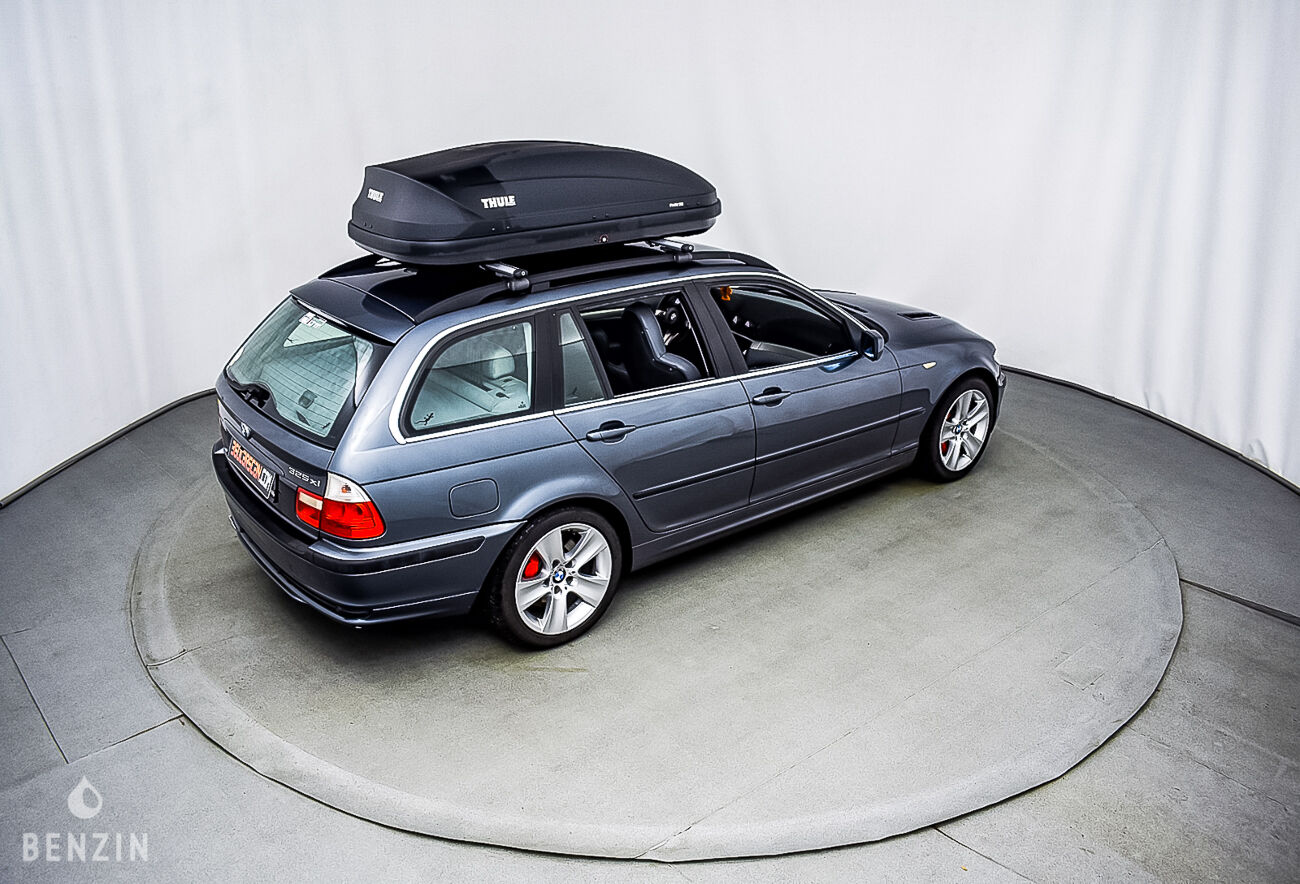 The interior is in good condition. The grey Nappa leather upholstery has no tears or holes but shows slight wear. The steering wheel and the dashboard are in good condition. The on-board instrumentation and electrical equipment are working normally. The seller indicates that the car has received a preparation for the installation of a torque distribution control module between axles, which must be completed (the seller provides the parts). This BMW has the following interior improvements:
-Z4 multifunction steering wheel
-Z4M Manual Heated Front Seats
-Z4 speed control module
-M3 E46 meter (English, in miles and km/h)
-Chargeurs USB high-speed
-BMW OEM rear child seat booster
-AEM, AFR, Oil, Boost gauges
-Kit radio Android "Erisin"
-Removal of the ashtray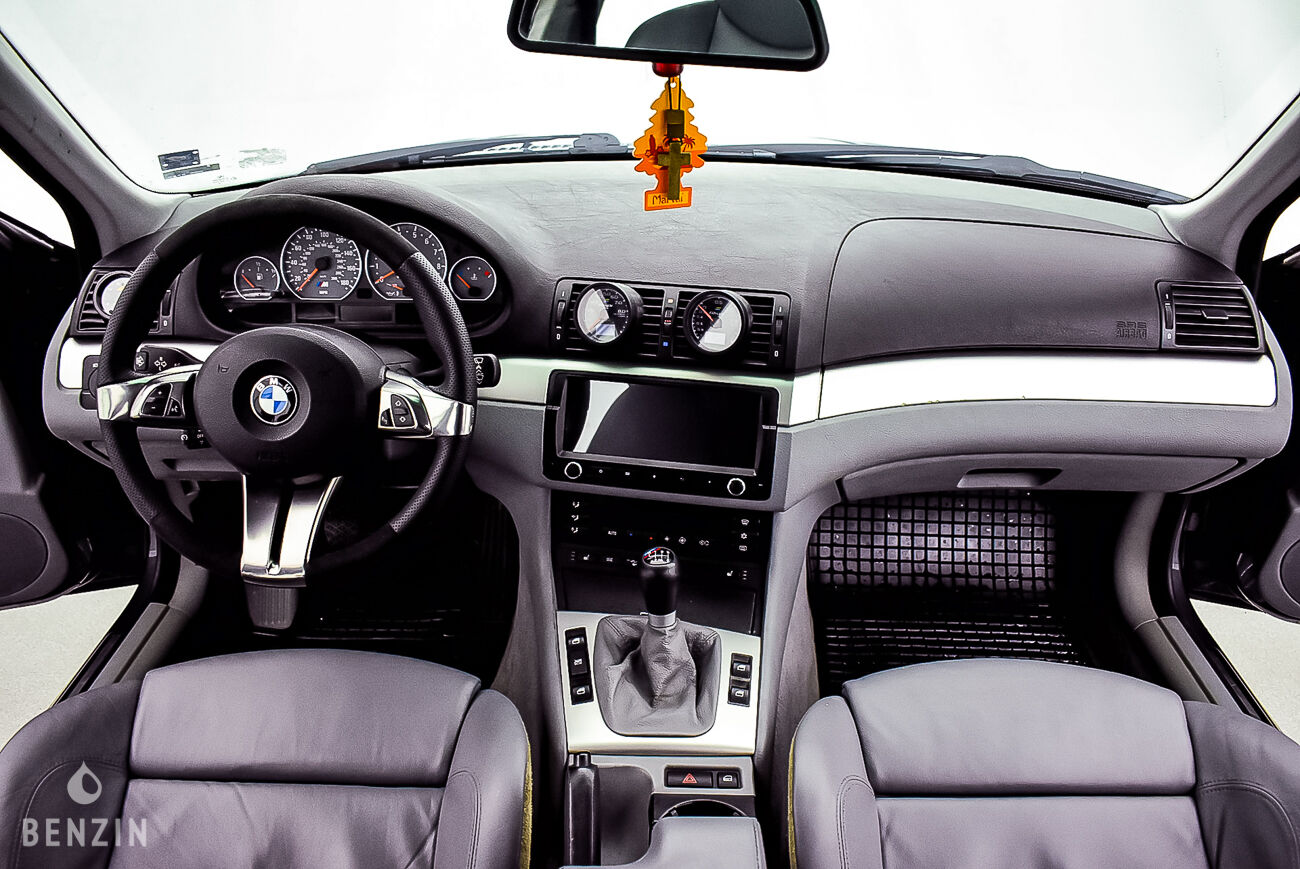 The seller indicates that the 3.2-liter 6-cylinder engine develops 551 hp. He reports that the mechanics work normally as well as the 6-speed manual transmission. The seller indicates that the original 4WD system has been kept, but reinforced (see details below). In its current configuration, the seller reports that this 3 series exceeds 300 km/h. The mechanics of this BMW received the following modifications:
High motor :
-Resurfaced motor head (0.06mm)
-Adjusted valve seats
-Supertech valve steam seals
-ARP studs
-Athena cut ring cylinder head gasket (1.5mm)
-Vanos Beisan Improvement Kit:
-Oil pump disc, Anti-rattle kit, Seals
-Hub bolts
Complete kit of seals, O-rings and gaskets.
-Hotcams valve wedges
-Improved exhaust bolts and nuts.
-Replaced coils and spark plugs
Low engine :
-Replaced main and connecting rod bearings (OEM)
-Replaced main and connecting rod bolts (OEM)
-Replaced constant pressure valve
-Improved rotor and oil pump disc
-Oil pump threading secured in 3 steps
Complete kit of seals, O-rings and gaskets
-ATI Super Shock Absorber
-Power steering pump replaced
Compressor :
-Vortech will trim 3 Superchargers
-Injectors Siemens-Deka 630cc
-Conversion of the Bosch 5 bar fuel regulator to 3.5 bar.
-Walbro fuel pump 400l/hr
-TIAL QR Purge Valve
-FMIC intercooler 550x230x65 @ 63mm
-Proto - silicone hoses and piping
-ESS 6pk light alloy pulley kit
-ESS custom remap
-Oil tank 332mxi custom 0.7l
Cooling :
-Mishimoto alloy radiator.
-Complete set of silicone cooling hoses do88
-New BEHR fan clutch
Thermostat, water pump and O-rings replaced.
-Radiator and filter a/c replaced
-Oil filter housing adapter AN.
19-row front mounted oil cooler
-Evil nrg braided AN oil hoses
Transmission
-6 speed gearbox conversion gs6-37bz
-Burkheart lightweight flywheel 5.5 kg
-Custom Kevlar friction plate (380nm/sqcm)
-Sachs Performance pressure plate (800nm)
-z4 3.0 short shifter
-Weighted knob ZHP 6sp.
-Replaced slave clutch cylinder
-Removal of the clutch delay valve
-Upgrading of the front twisted differential (3.23)
-Torsen rear differential upgrade (3.23)
-Hybrid front driveshaft with improved CV joints
-Rear driveshaft with improved universal joints
-Replacement of the Guibo and reinforcement of the support bearing
-Replaced front half shafts
-Improved rear half-shafts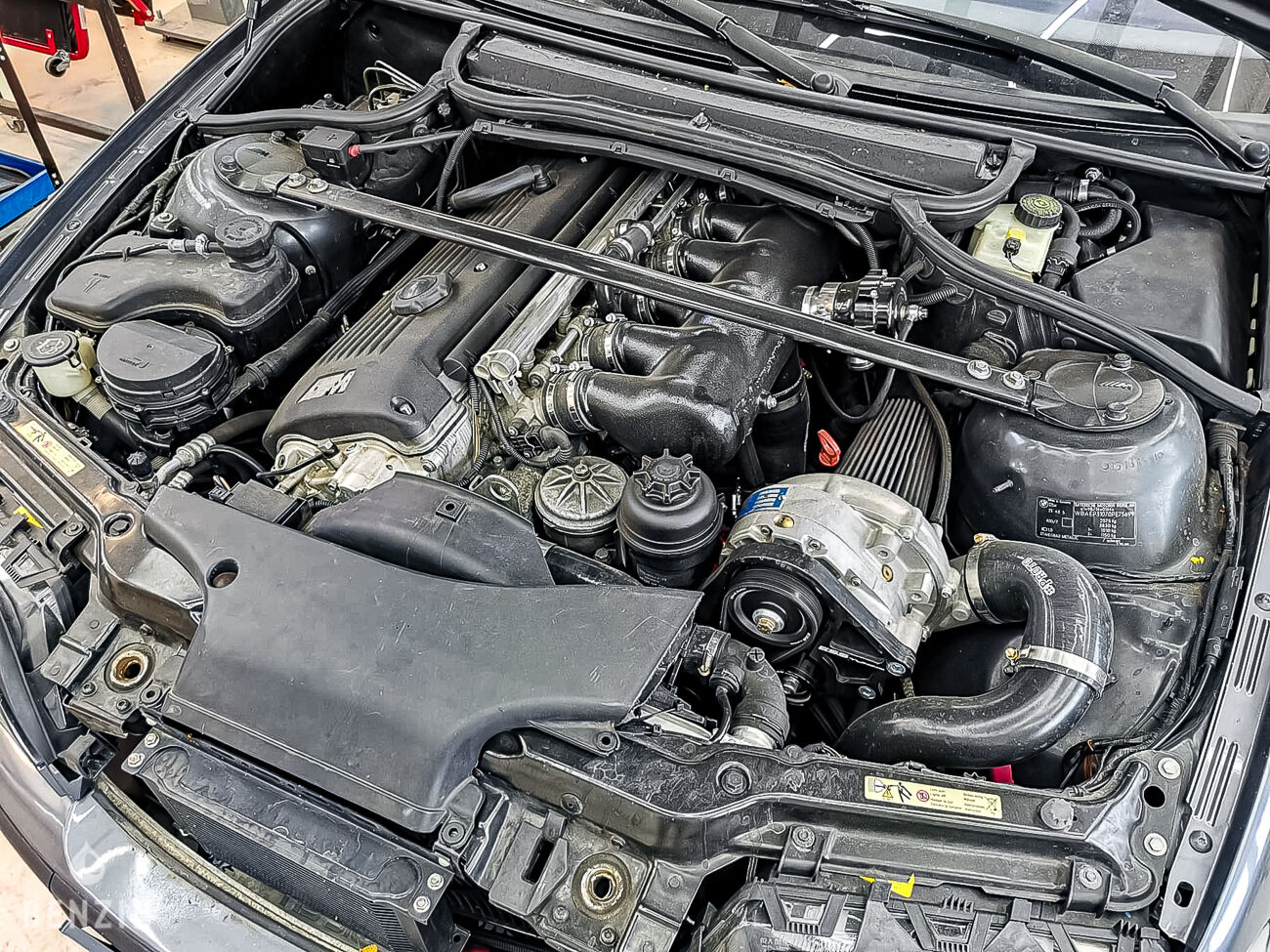 The car has its 4 original rims (style 327) in good condition. The car brakes normally. The running gear received the following modifications:
-Front and rear axles completely rebuilt
-Reinforcement of the attachment points of the rear axle on the body.
-Kit Bilstein b12 pro (ressorts Eibach)
Front anti-roll bar M3 e46
-Winter tire configuration: Style 327 (17')
-Summer tire configuration: Style 236 (17')
-Pneus Race Syron Street (225/45/17)
-The braking system has received the following modifications:
-Fully rebuilt 135i front brake calipers
-135i rear brake calipers completely rebuilt.
-4 braided hoses Hel
-Mtec slotted and drilled front discs (325x25)
-Mtec slotted and drilled rear discs (320x22)
-Front and rear Mintex pads
-Replaced brake shoes
-E46 m3 double diaphragm brake booster
-Mastervac main E46 M3 (25/20)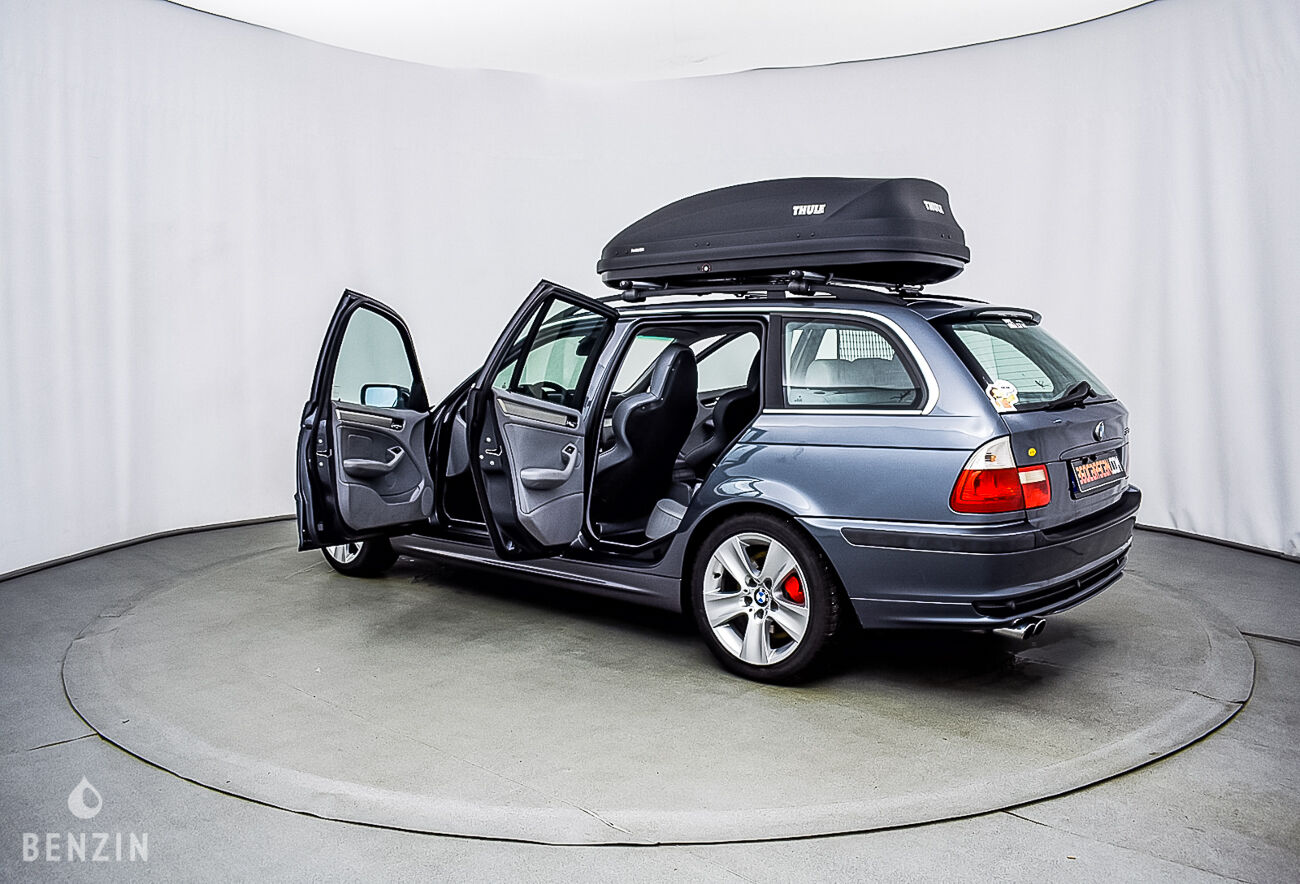 The seller is a private individual located in Bulgaria in Plovdiv and accepts visits during the sale. The car will be sold with its Bulgarian registration, two pairs of rims and tires. The roof box is not included in the sale.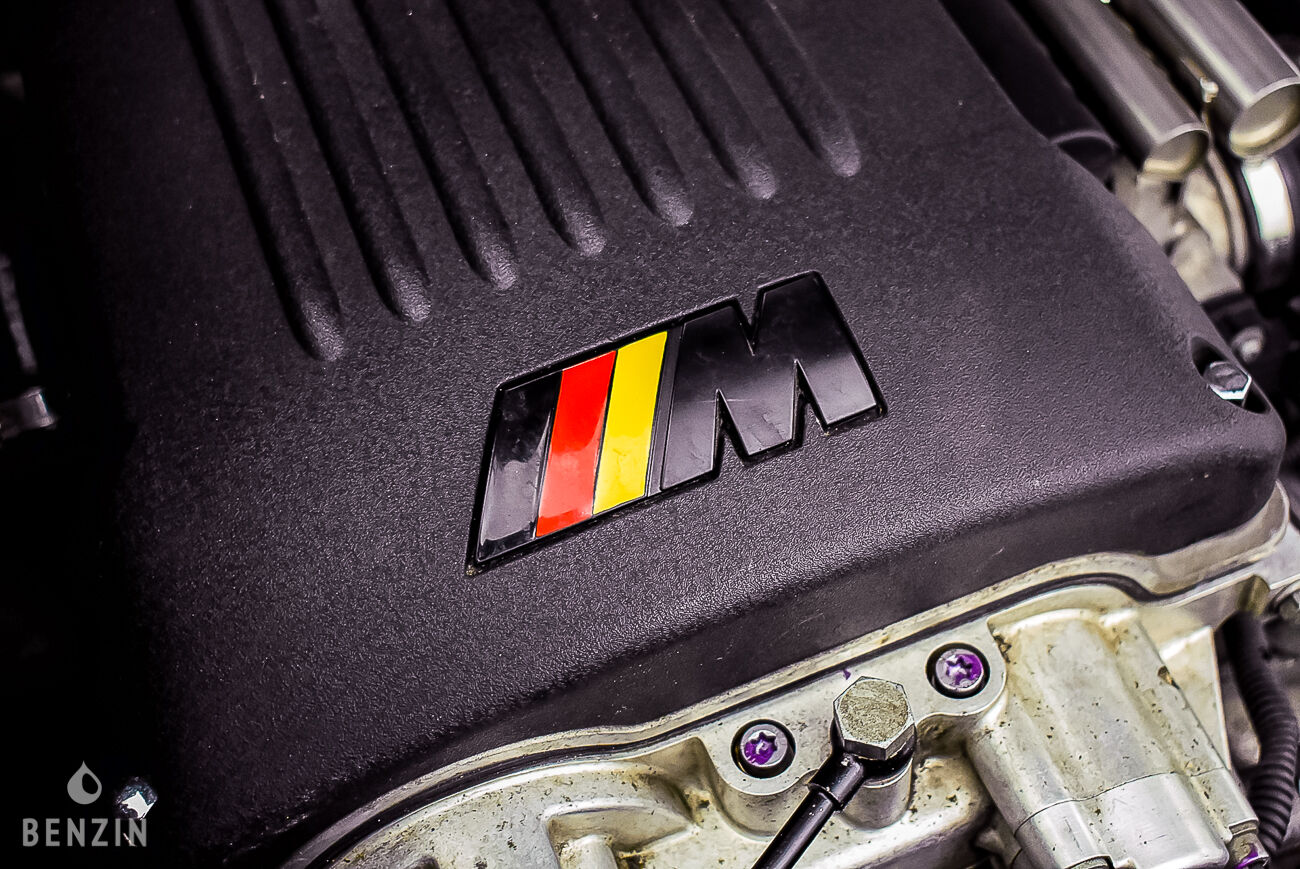 The vehicle is sold without reserve price.
Note This vehicle has been modified and can be registered in France as a BMW 325xi Touring type e46. The declaration of any changes is the responsibility of the buyer.
Auction information
About this vehicule
Secure Payment

Secure PaymentThis vehicle is eligible for secure payment. You pay for your vehicle via an escrow account
Model page
BMW
BMW Serie 3 e46
Sold to classicsfinland
Newsletter
Subscribe to our Newsletter : one email per week so you don't miss a thing!
Currently on Benzin
More on Benzin