This vehicle got away! Don't miss the next one by subscribing to the model:
Mazda MX-5 NB
Mazda MX-5 NB 10th Anniversary - 1999 *Sans Réserve
Secure Payment
La MX-5 nage à contre-courant de notre époque, et c'est pour cela que nous l'aimons autant. En effet, avec un équipement minimaliste, peu d'électronique et une conception simple, il n'y a pas grand chose à faire d'autre que de se concentrer sur la conduite à son volant. Alors si l'esprit Miata sommeille en vous, cette rare édition 10th Anniversary en excellent état est faite pour vous. Benzin
Localisation
France, Béthemont-la-Forêt (95)
Livraison
Possible en supplément
History report
This vehicle has a history report, click to view it.
Présentation
Cette Mazda MX5 NB de 1999 est le 1672 ème exemplaire sur 7500 de la série spéciale commémorant les 10 ans du modèle et affiche 69.000 km. Le vendeur indique que la voiture est en très bon état général, qu'elle dispose d'un Contrôle Technique valide et qu'elle a bénéficié de frais récents et réguliers.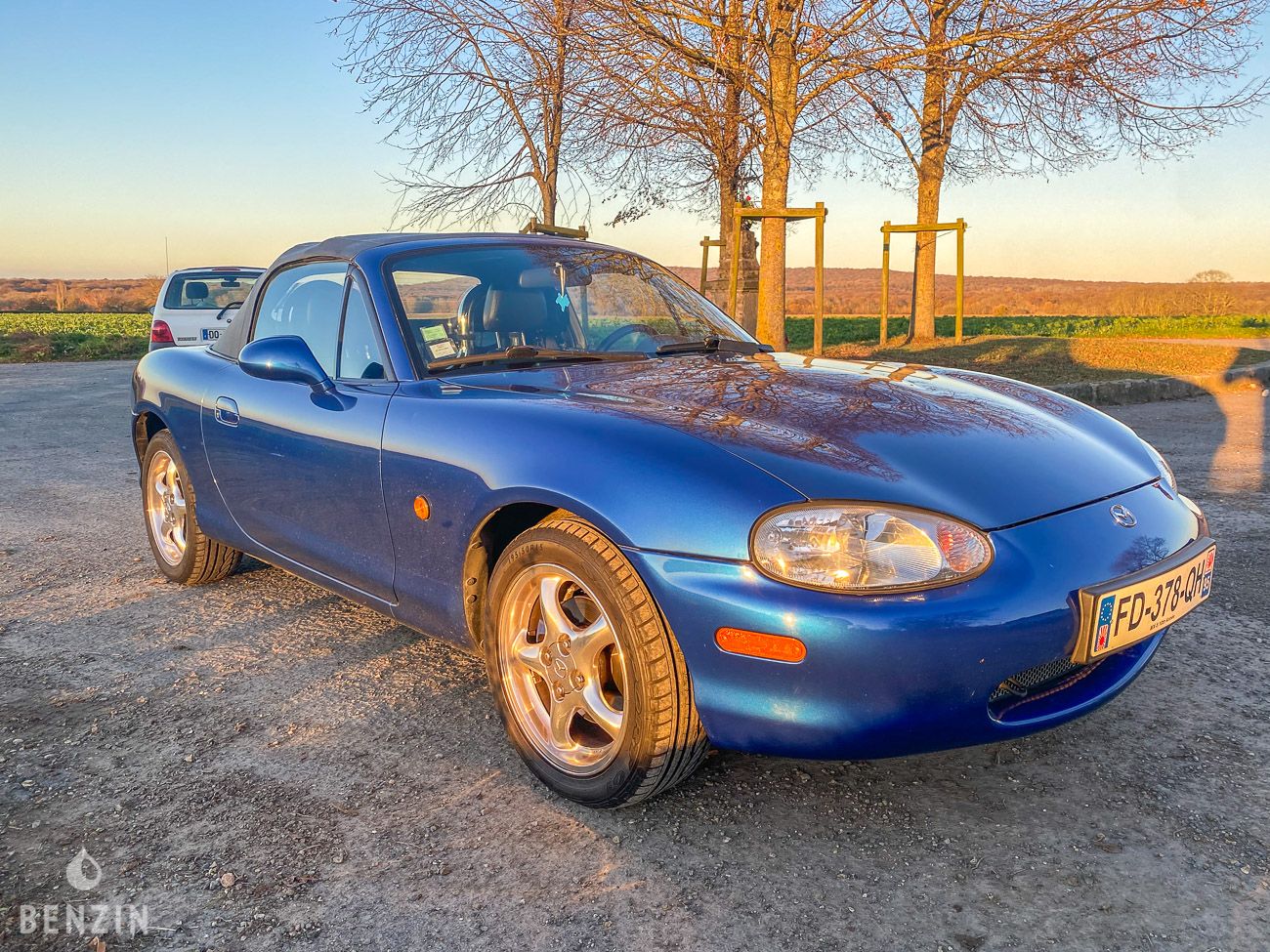 À l'extérieur, la voiture est en très bon état. La peinture dans sa teinte bleue ne présente que de très rares défauts visibles dans la galerie. Les plastiques et joints extérieurs sont en bon état, tout comme les optiques. Le vendeur indique que cette MX5 est saine, des photos des soubassements sont disponibles dans la galerie.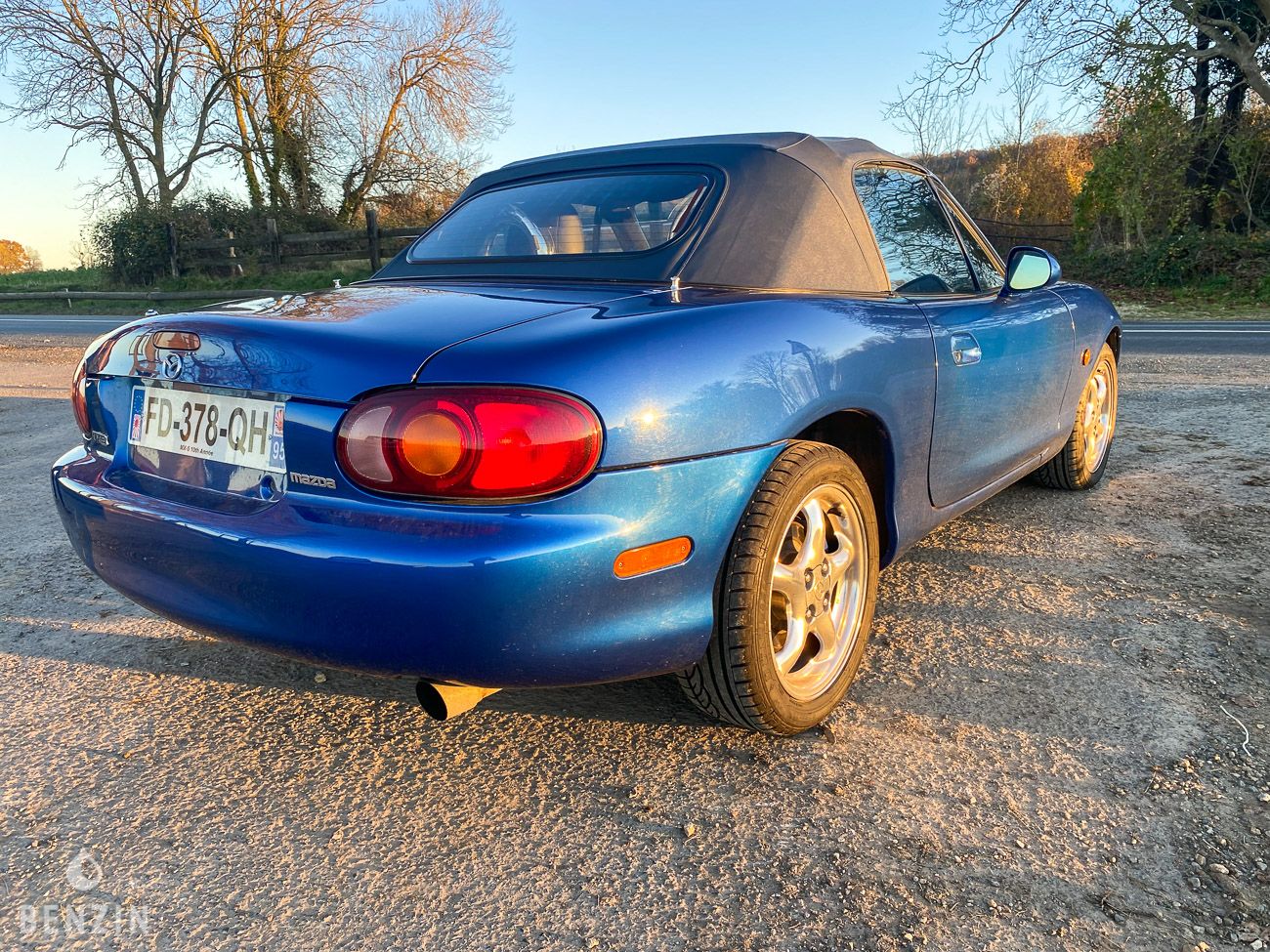 L'intérieur spécifique est en très bon état. La sellerie en cuir noir et alcantara bleu ne comporte ni déchirures ni trous mais montre de très légères traces d'usure. Le volant et le tableau de bord sont en très bon état. L'instrumentation de bord ainsi que les équipements électriques fonctionnent normalement. Cette MX5 dispose de la climatisation et d'un filet anti-remous rabattable. Cette série spéciale 10eme anniversaire dispose de :
- Moquette bleu
- Tapis bleu estampillé 10ème anniversaire,
- Volant bicolore bleu,
- Pommeau de vitesse bicolore
- Hard top couleur carrosserie
- Capote bleu marine
- Couvre Capote bleu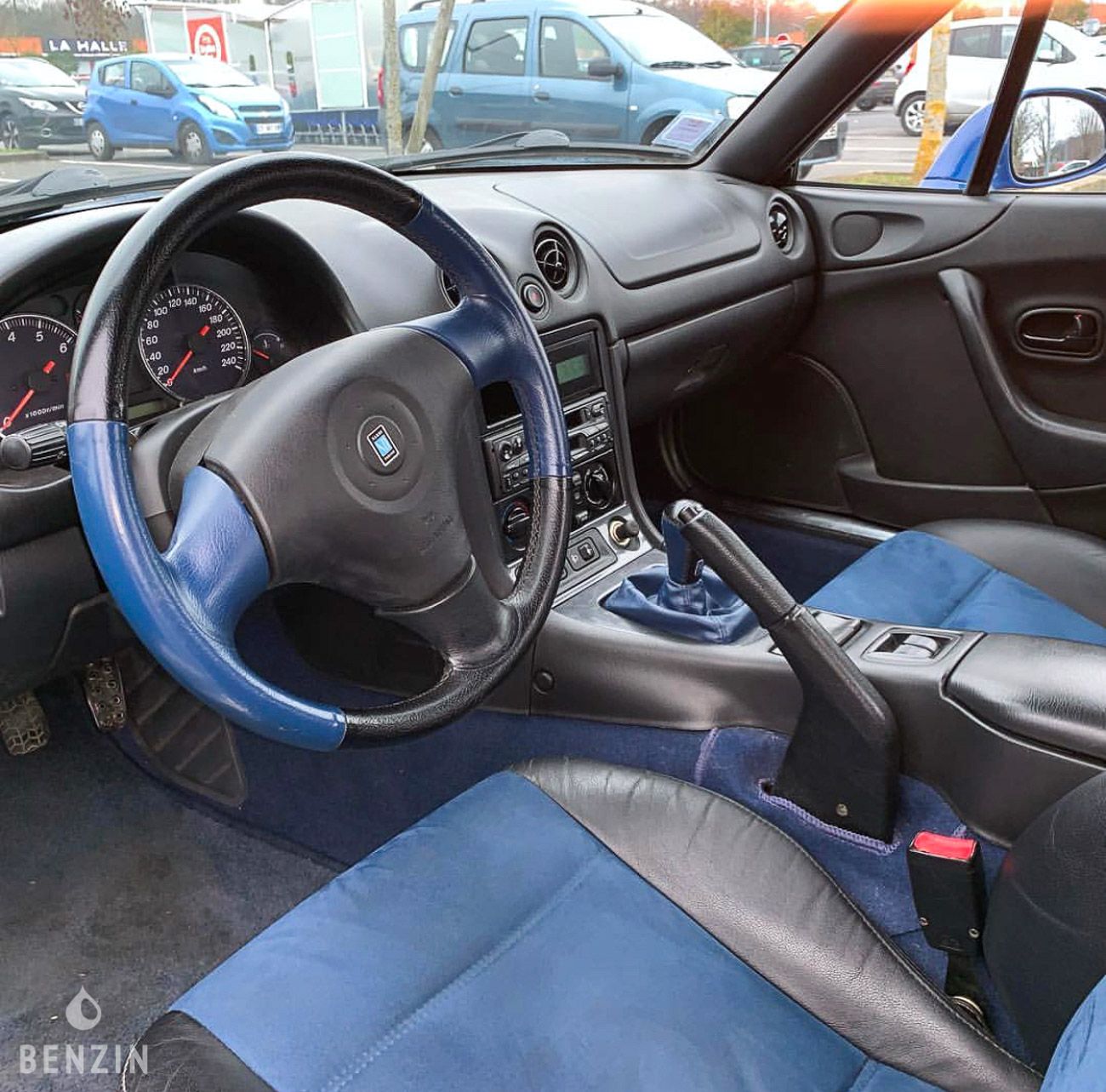 Le 4 cylindres de 1.8 litres développait 140 cv à sa sortie d'usine. Le vendeur indique que la mécanique fonctionne normalement de même que la boîte manuelle à 6 rapports spécifique à cette version. Le moteur est entièrement d'origine. Récemment, la voiture a bénéficié de :
- Remplacement des bougies et faisceau d'allumage
- Vidange et filtres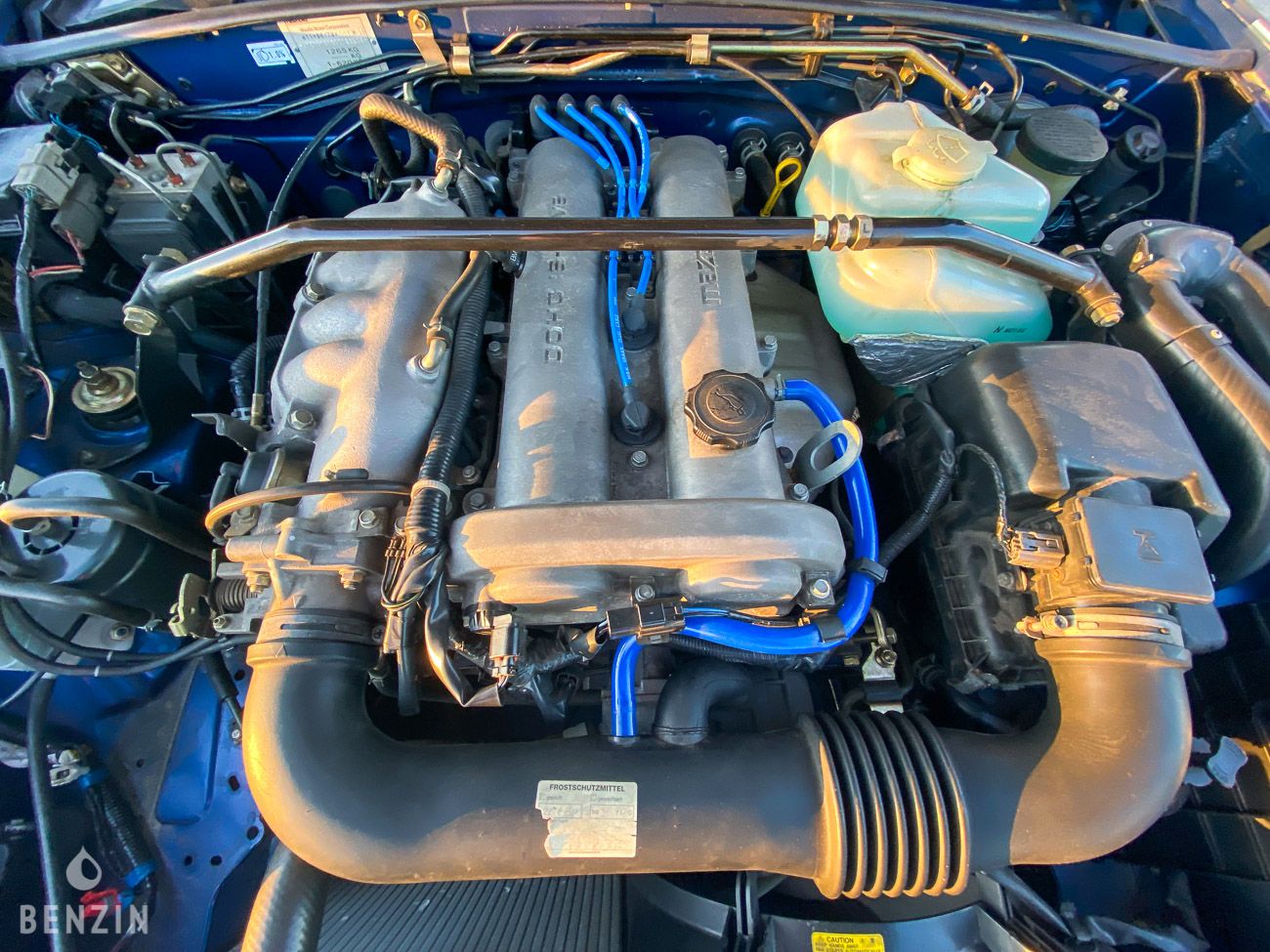 La voiture dispose de ses 4 jantes chromées spécifiques en très bon état chaussées de pneus en bon état. La voiture freine normalement. Le vendeur ne rapporte aucun jeu dans les trains roulants. La série spéciale 10ème anniversaire dispose de 4 amortisseurs sport Bilstein. Le vendeur indique que la voiture est équipée d'un différentiel à glissement limité Torsen.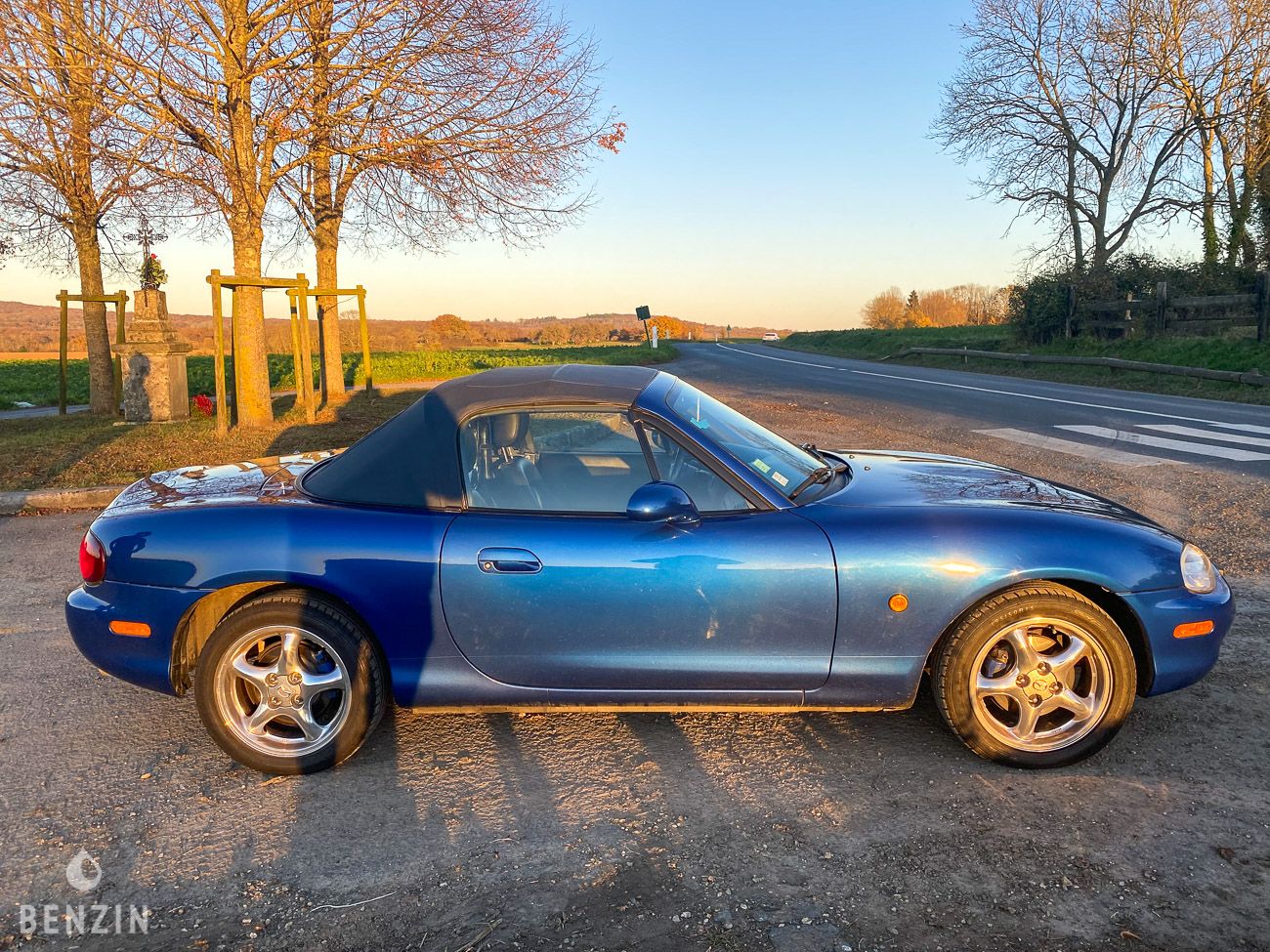 Le vendeur est un particulier situé en France à Béthemont-la-Forêt (95) et accepte les visites pendant la vente. La voiture sera vendue avec sa carte grise française, un contrôle technique de moins de six mois, des factures, et ses clés.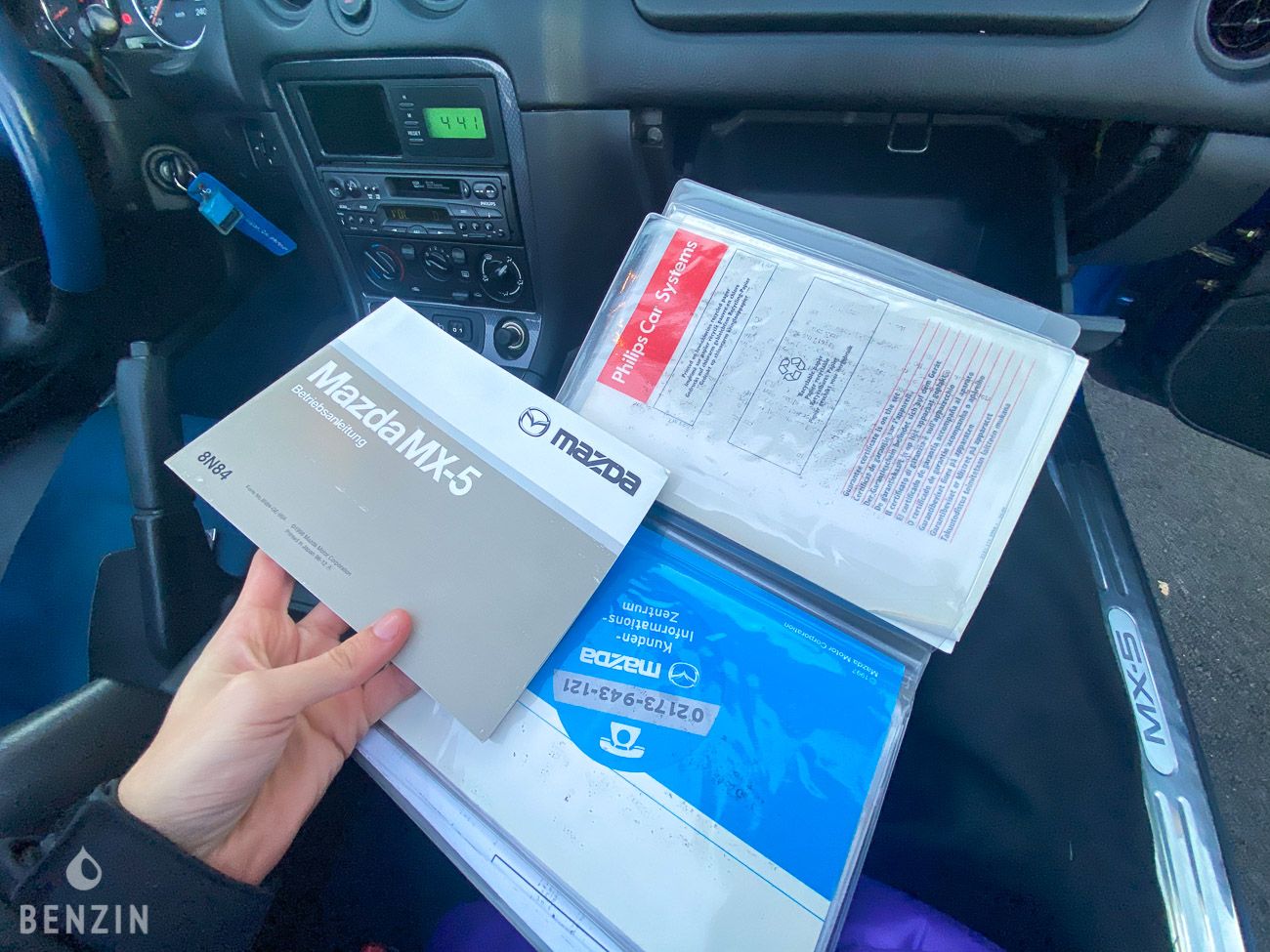 Le véhicule est vendu sans prix de réserve.
Auction information
Gallery
Seller Guillaumebrx
About this vehicule
Secure Payment

Secure PaymentThis vehicle is eligible for secure payment. You pay for your vehicle via an escrow account
Model page
Mazda
Mazda MX-5 NB
Sold to Tup
Newsletter
One email per week so you don't miss anything
Currently on Benzin
More on Benzin