Volkswagen Golf 1 Cabriolet - 1991
Secure Payment
Les beaux jours arrivent et vous n'avez toujours pas de Youngtimers Cabriolet ? Pas de panique, cette Golf Cab' 1ère génération en très bon état est là pour vous. En plus de sa configuration originale et tellement 90's, cette VW ne vous ruinera pas. Alors, qu'attendez-vous ? L'équipe Benzin
Localisation
France, Ajaccio (20)
Livraison
Possible en supplément
Vidéo
Présentation
Cette Volkswagen Golf 1 Cabriolet d'origine Italienne de 1991 affiche 93.000 km. Le vendeur indique que la voiture est en très bon état général, qu'elle dispose d'un Contrôle Technique valide et qu'elle a bénéficié de frais récents. Un rapport UTAC retraçant une partie de l'historique est disponible dans la galerie (à partir de 2009).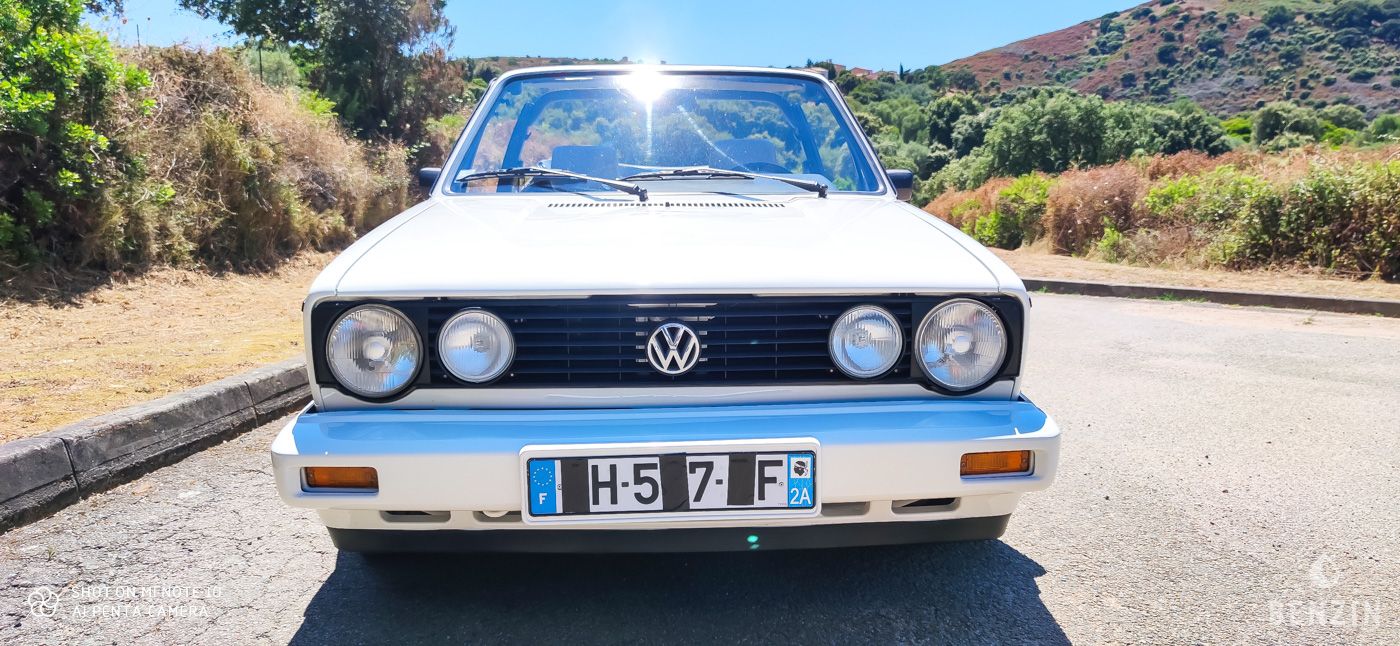 À l'extérieur, la voiture est en très bon état. La carrosserie a été repeinte dans sa teinte blanche, elle ne présente pas de défaut notable (voir galerie). Les plastiques et joints extérieurs sont en bon état, tout comme les optiques. Les joints de lèche vitre sont neufs. La capote et le ciel de toit ont récemment été changés. Le vendeur indique que cette Golf est exempte de corrosion, des photos des soubassements sont disponibles dans la galerie.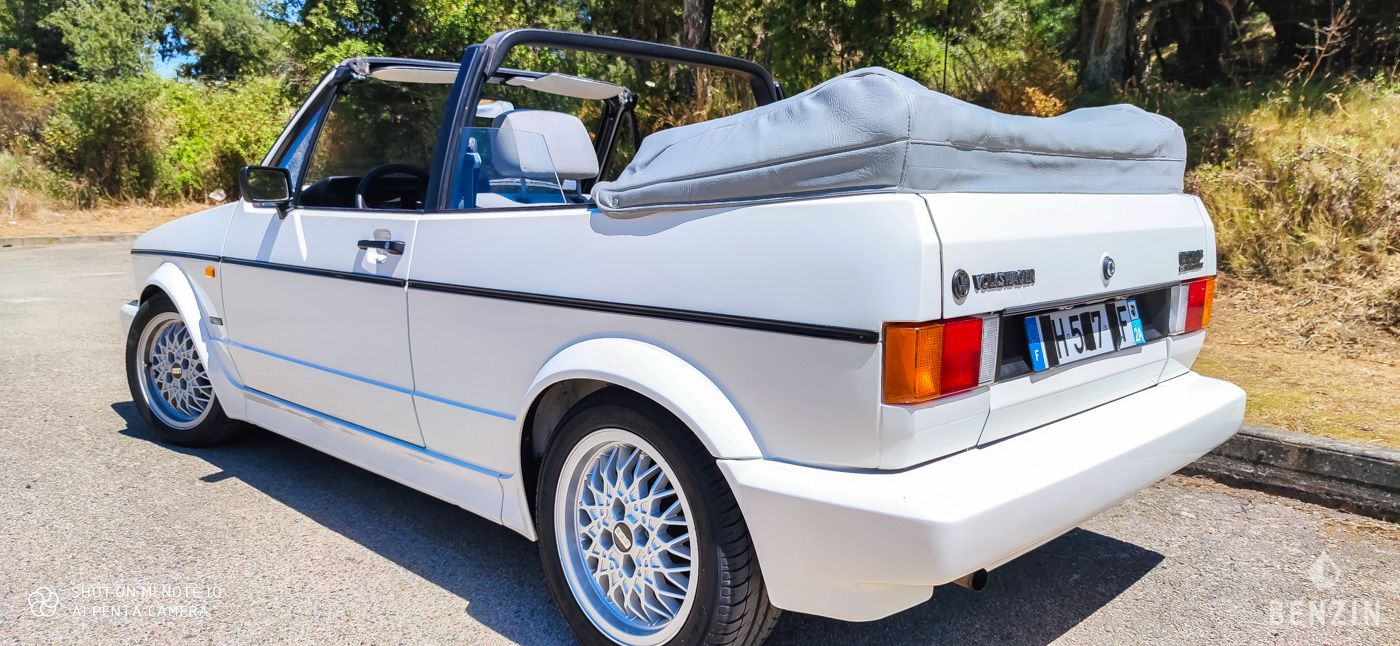 L'intérieur est en très bon état. La sellerie ne comporte ni déchirures ni trous mais montre de très légères traces d'usure. Le volant et le tableau de bord sont en très bon état. L'instrumentation de bord ainsi que les équipements électriques fonctionnent normalement.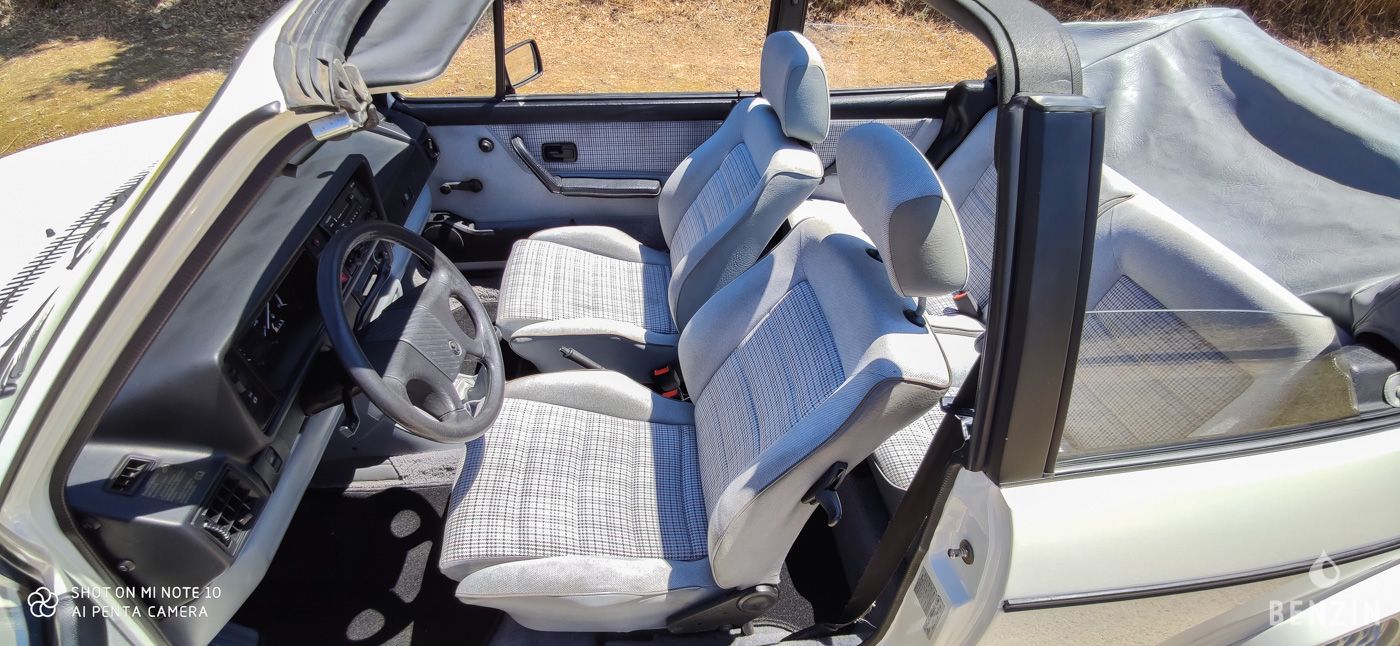 Le 4 cylindres de 1.6 litres (type EW) développait 75 cv à sa sortie d'usine. Le vendeur indique que la mécanique fonctionne normalement de même que la boîte manuelle. Le moteur est entièrement d'origine. Le vendeur dispose de quelques factures visibles dans la galerie. Récemment, elle a bénéficié des frais suivant :
- Courroie de distribution et pompe à eau
- Courroie accessoire
- Révision standard (Vidange, filtres et bougies)
- Bagues de tringlerie de boite de vitesse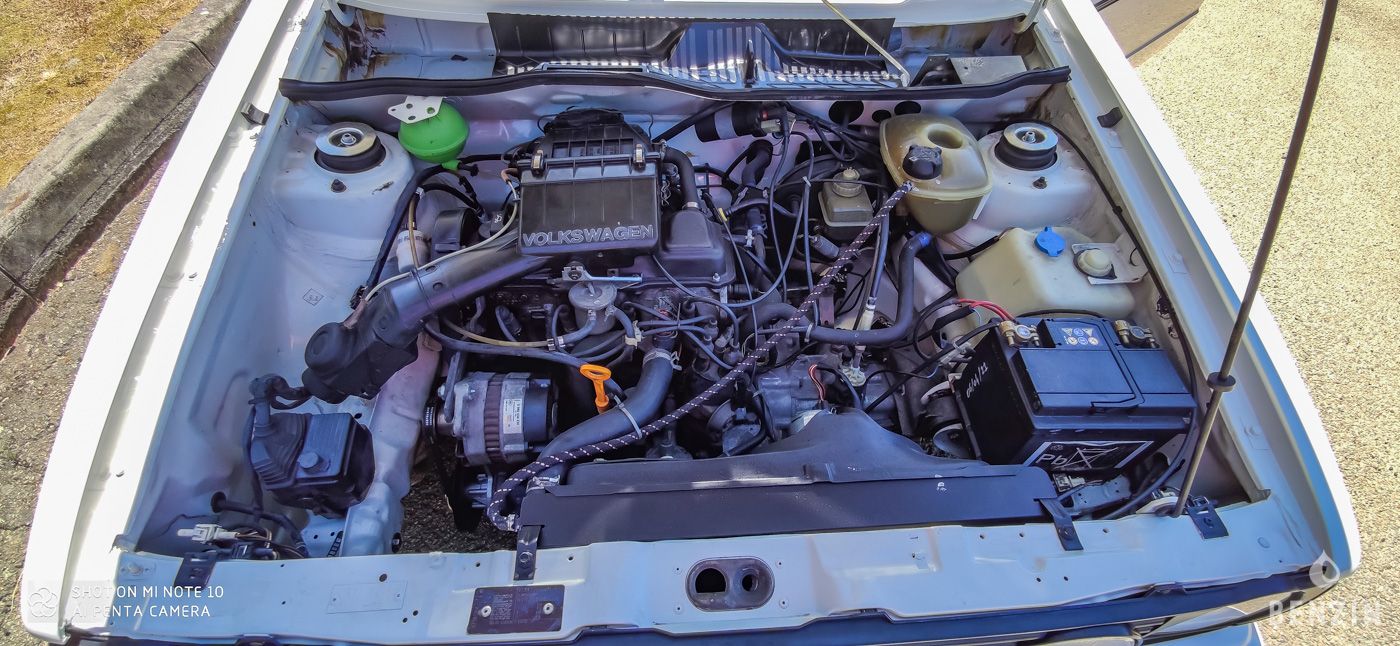 La voiture dispose de 4 jantes BBS en très bon état chaussées de pneus à mi-usure. La voiture freine normalement. Les amortisseurs (-40mm) et les freins (disques / plaquettes) avant et arrière sont neufs. Les silentblocs et rotules ont été échangés.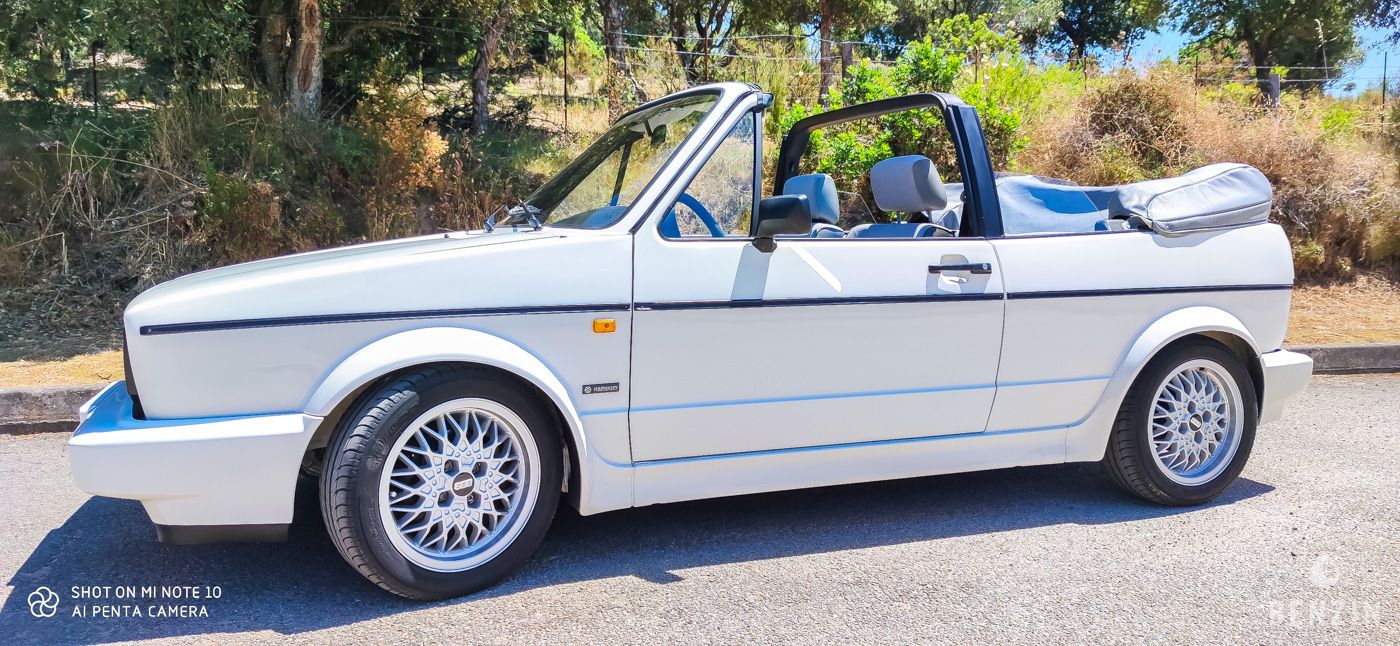 Le vendeur est un particulier situé en France à Ajaccio (20) et accepte les visites pendant la vente. La voiture sera vendue avec sa carte grise française (normale), un CT favorable de moins de 6 mois et quelques factures
Le vendeur a souhaité définir un prix de réserve.
Auction information
Galerie
Seller fabien
About this vehicule
Secure Payment

Secure PaymentThis vehicle is eligible for secure payment. You pay for your vehicle via an escrow account
Benzin Trusted Seller

Benzin Trusted SellerThis badge reward the sellers who did several transactions on Benzin with very good buyer feedbacks.
Sold to Sr
Financing
You can no longer submit a request. Requests can be submitted up to 3 days before the end of the sale.
Newsletter
Un mail par semaine pour ne rien manquer
Currently on Benzin
More on Benzin