This vehicle got away! Don't miss the next one by subscribing to the model:
Porsche 924
Porsche 924 - 1981 *No reserve
Secure Payment
A front-engine Porsche that is usable in everyday life and affordable. That's the bet Porsche took in the 70s by launching the 924. So if you want to drive a Porsche while listening to your best 80's playlist, don't wait any longer to place your bid.

Benzin
Car registration
French collection
Location
France, Yvetot (76)
Delivery
Possible in addition
History report
This vehicle has a history report, click to view it.
Presentation
This 1981 Porsche 924 of French origin has 82,000 km (5 digit counter). The Histovec report indicates that this vehicle has had 3 owners, however the seller indicates that he has made a name change. The seller indicates that the car is in good general condition, that it has a favorable Technical Control dated 22/05/19 and that it has benefited from recent and regular maintenance.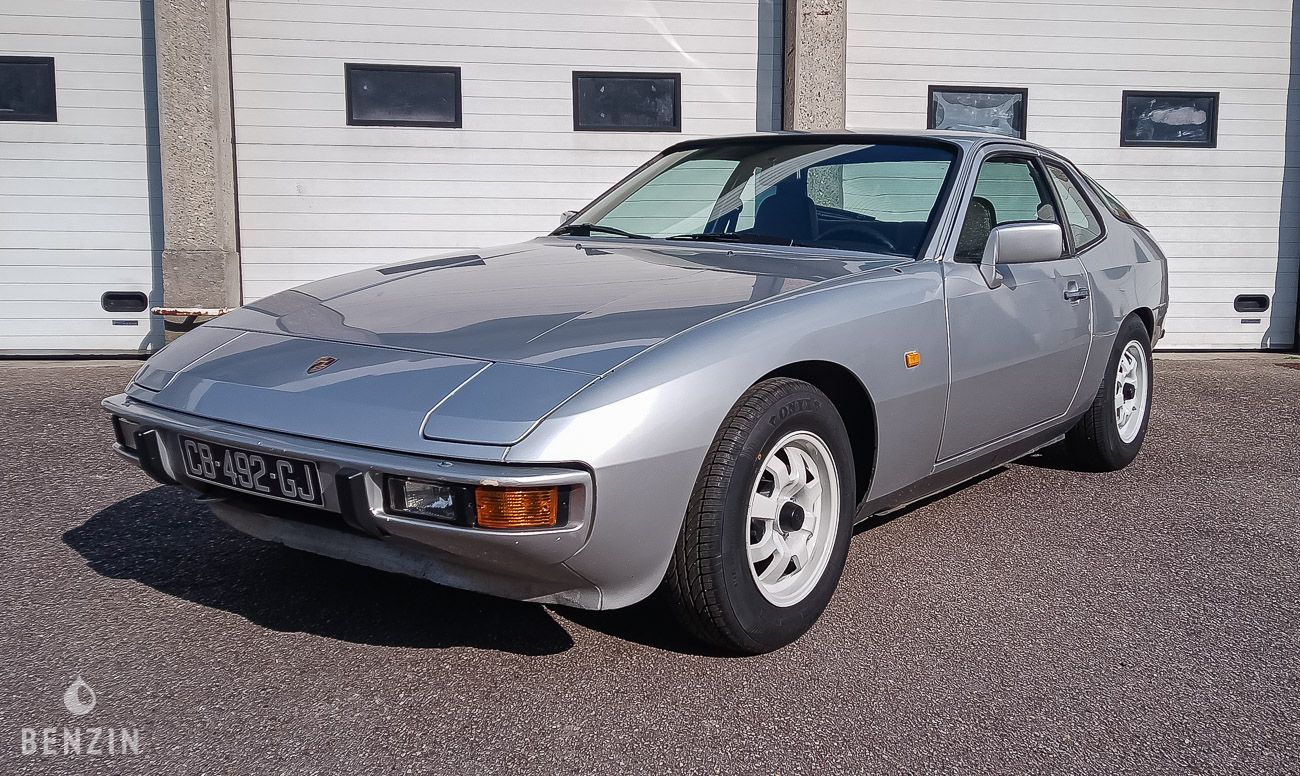 On the outside, the car is in good condition. The paint in its grey color has some visible defects in the gallery. The exterior plastics and seals are worn. The headlights are in good condition. Pictures of the underbody are available in the gallery.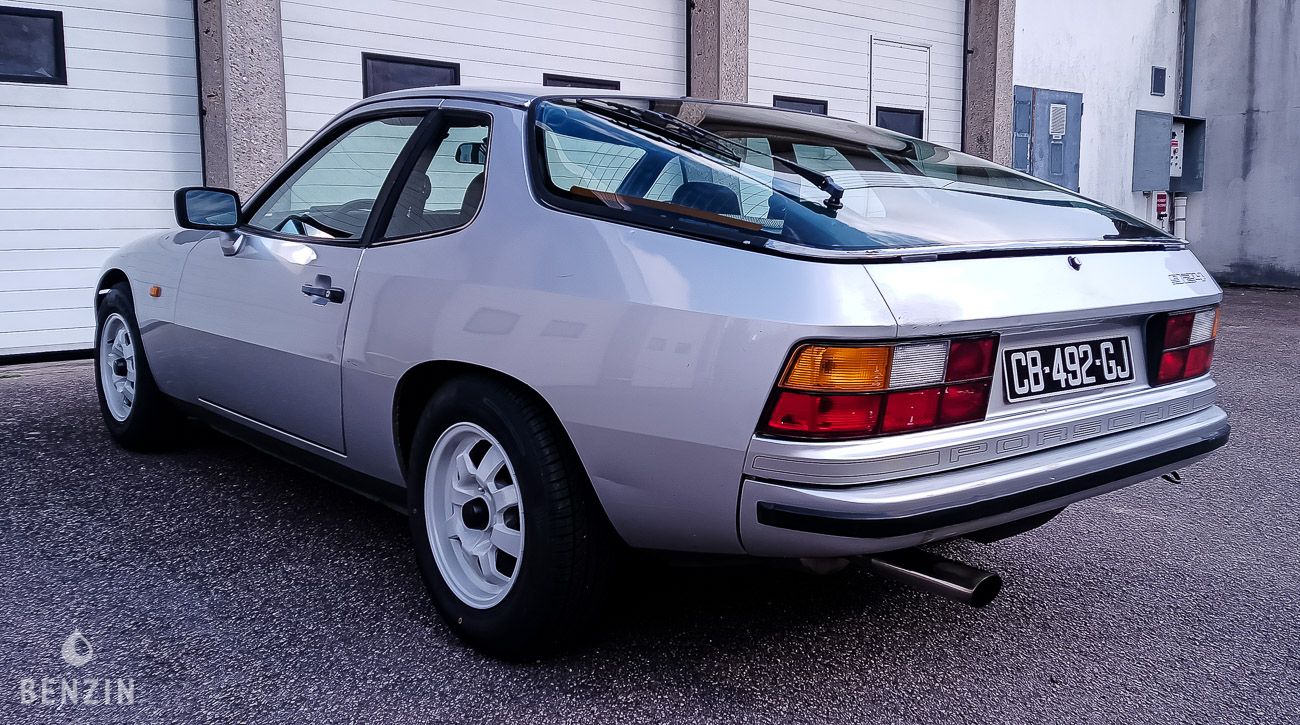 The interior is in very good condition. The black leather and brown fabric upholstery has no tears or holes but shows very slight signs of use. The seller indicates that the steering wheel is in good condition but that the dashboard is cracked. The on-board instrumentation and electrical equipment are functioning normally. He indicates that the odometer and the electric passenger window are blocked. The odometer has been replaced in the past by a Porsche specialist in 2002 (see invoice, new odometer shows 71.140km).
This Porsche 924 features:
- Electric windows
- Electric and defrosting mirrors
- Lave phares
- Door panels with porsche logo
- Alloy spare wheel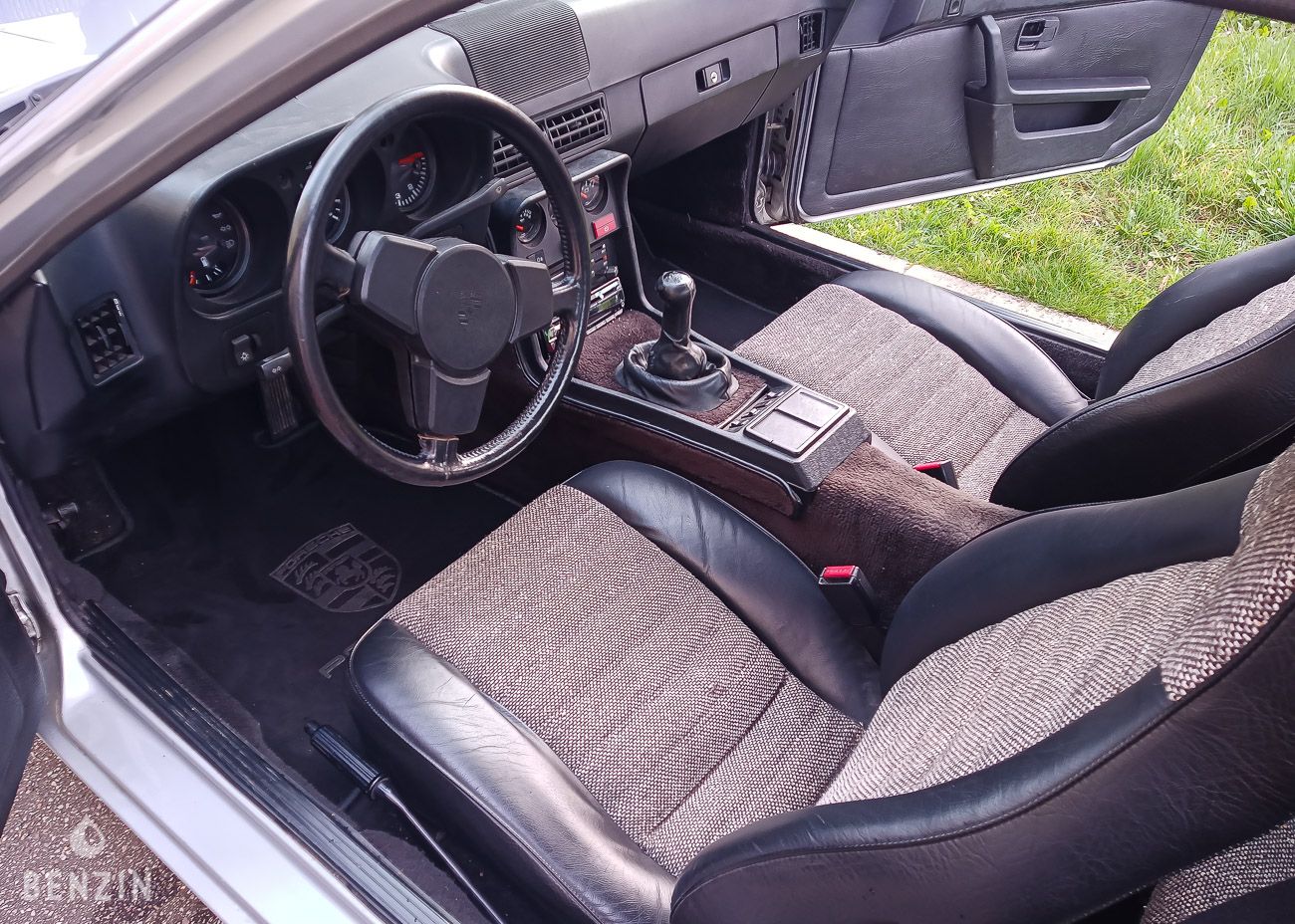 The 2-liter 4-cylinder developed 125 hp when it left the factory. The seller indicates that the mechanics work normally as well as the 5-speed manual transmission. The seller has invoices. Recently, the car has had an oil change and the timing kit has been replaced.
The current owner has made the following charges:
- 05/2009 : installation of a stainless steel silencer
- 05/2009 : distribution kit + filters and spark plugs
- 02/2010 : Koni shock absorbers + cups + triangles
- 06/2013 : ignition coil + wires + ignition head and finger
- 09/2013 : complete rear brake kit
- 09/2015 : distribution + starter repair
- 11/2015 : installation of aviation hoses
- 01/2018 : injection control and adjustment by Kjetronic specialist
- 01/2021 : shot blasting/priming/ powder coating of the rims
- 08/2021 : replacement of starter and fuel pump, new wheel centers
- 11/2021: 4 new tires (original size)
- 03/2022 : distribution + complete check up for sale
The vehicle has benefited from an engine change at 103862 km at a Porsche specialist (see invoice)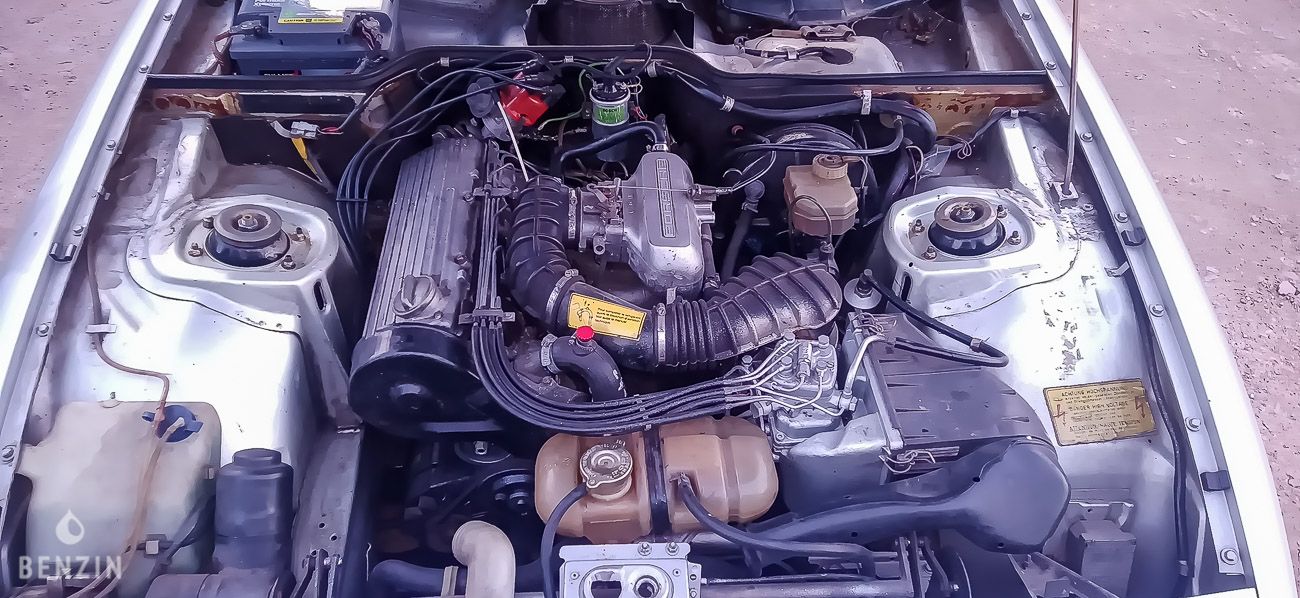 The car has 4 restored rims with new tires. The car brakes normally. The seller indicates that this Porsche 924 has custom made track wideners.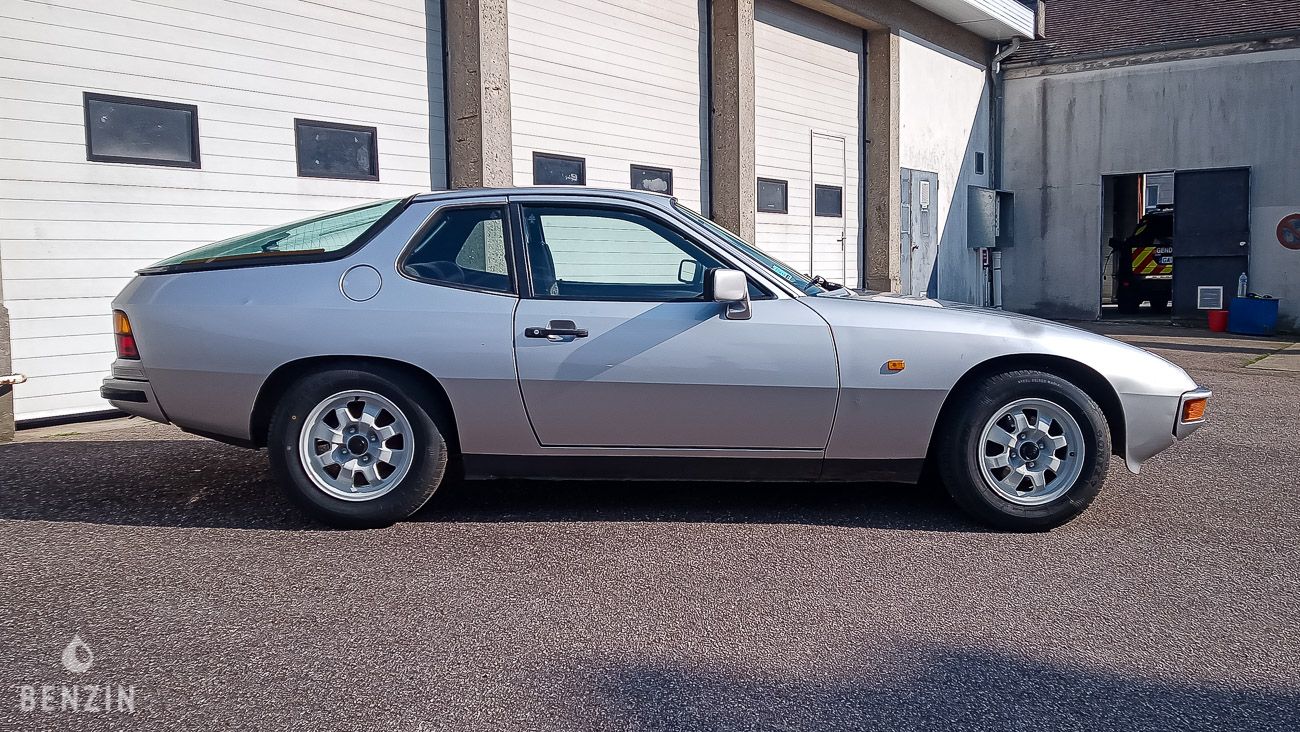 The seller is a private individual located in France in Yvetot (76) and accepts visits during the sale. The car will be sold with its French collector's registration, a technical control less than 6 months old for the sale, its documentation, invoices and its logbook.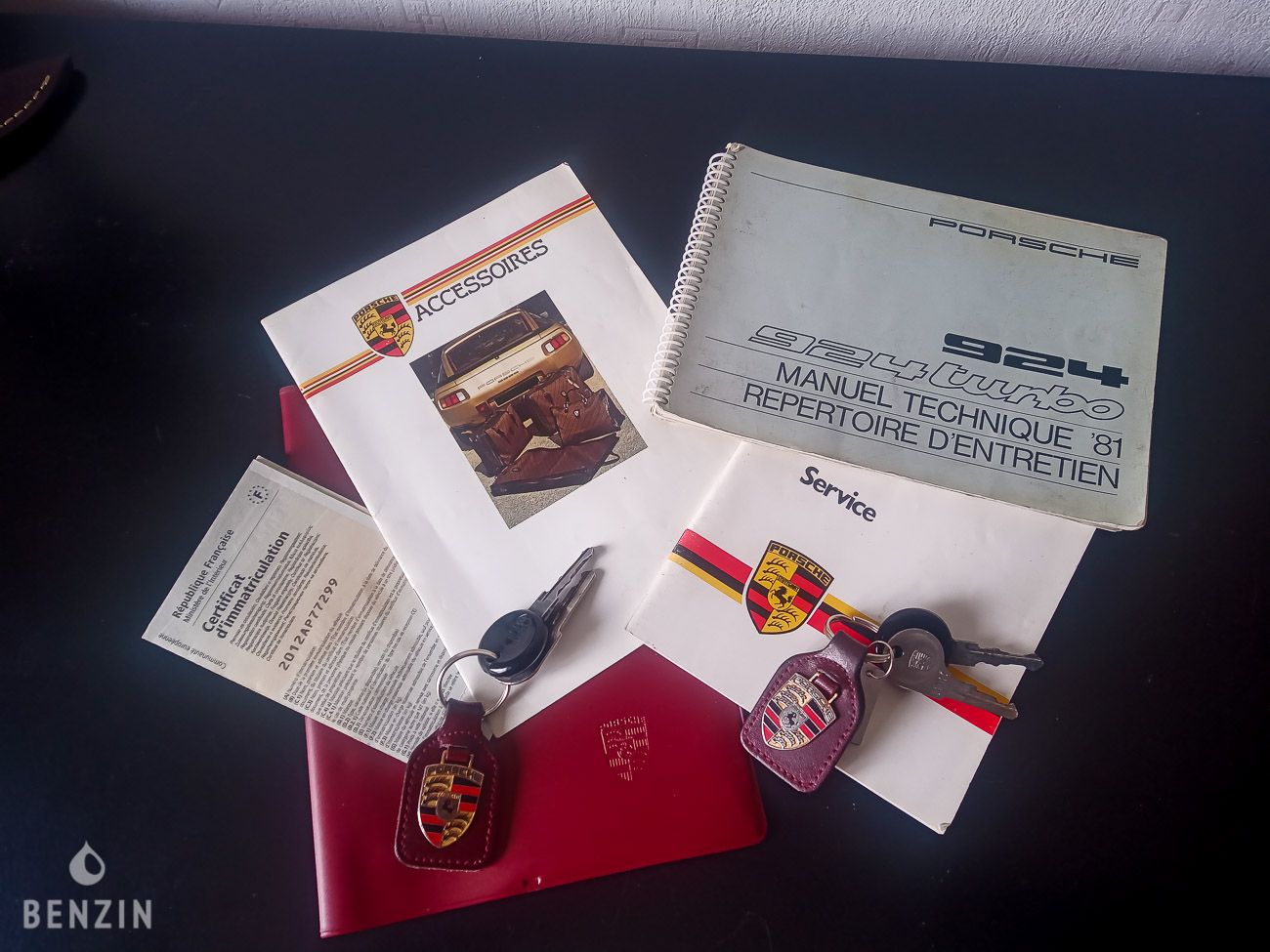 The seller wished to define a reserve price.
Auction information
About this vehicule
Secure Payment

Secure PaymentThis vehicle is eligible for secure payment. You pay for your vehicle via an escrow account
Model page
Porsche
Porsche 924
Sold to SEEDCAR
Newsletter
Subscribe to our Newsletter : one email per week so you don't miss a thing!
Registration
Complete your formalities using our online registration service (including provisional registrations and foreign vehicles) (service available in France only).
Access the service
Currently on Benzin
More on Benzin