Fiat 500 D - 1961 *Sans Réserve
Démarquez vous des autres 500. Cette belle Fiat 500D avec ses portes suicide entièrement restaurée sera parfaite pour qui veut une rare 500 dans sa configuration originelle. N'ayant connu qu'un seul propriétaire, elle attend son nouveau conducteur avec impatience. Vous savez ce qu'il vous reste à faire (n'hésitez pas, c'est sans réserve). L'équipe Benzin
Localisation
Italie, San Giovanni In Marignano (47842)
Livraison
Possible en supp.
Vidéo
Présentation
Cette Fiat 500D de 1966 d'origine italienne est une première main affichant 51.000 km. Le vendeur indique que la voiture est en très bon état général, qu'elle dispose d'un Contrôle Technique italien valide et qu'elle a bénéficié d'une restauration complète en 2019.
À l'extérieur, la voiture est en très bon état. La peinture dans sa teinte grise ne présente que de très rares défauts visibles dans la galerie. Les joints extérieurs sont en bon état, tout comme les optiques et les chromes. Le vendeur indique que la capote en toile est en très bon état. Le vendeur indique que cette 500 est exempte de corrosion. Il précise également que la voiture est entièrement d'origine à l'extérieur.
L'intérieur est en très bon état. La sellerie en simili rouge ne comporte ni déchirures ni trous mais montre de très légères traces d'usure. Le volant et le tableau de bord sont en très bon état. L'instrumentation de bord ainsi que les équipements électriques fonctionnent normalement.
Le bicylindre de 499,5cc développait 17,5 cv à sa sortie d'usine. Le vendeur indique que la mécanique fonctionne normalement de même que la boîte manuelle à 4 rapports. Le vendeur indique que la mécanique a été entièrement révisée au moment de la restauration.
La voiture dispose de ses 4 jantes d'origine en très bon état chaussées de pneus en bon état. La voiture freine normalement. Le vendeur ne rapporte aucun jeu anormal dans les trains roulants.
Le vendeur est un particulier situé en Italie à San Giovanni In Marignano (47842) et accepte les visites pendant la vente. La voiture sera vendue avec sa carte grise italienne, un contrôle technique italien et ses clés.
Le véhicule est vendu sans prix de réserve.
Informations sur l'immatriculation*:
L'acheteur doit compter en sus du prix d'achat une taxe d'export d'environ 200€.
L'immatriculation est à la charge de l'acheteur dans son pays. En france, ce véhicule peut être immatriculé en carte grise collection via la FFVE* (pour plus d'informations : cliquez ici)
*Ces démarches sont données à titre indicatif. L'immatriculation relève de votre responsabilité. Vérifiez la législation en vigueur dans votre pays.
Auction information
Galerie
Seller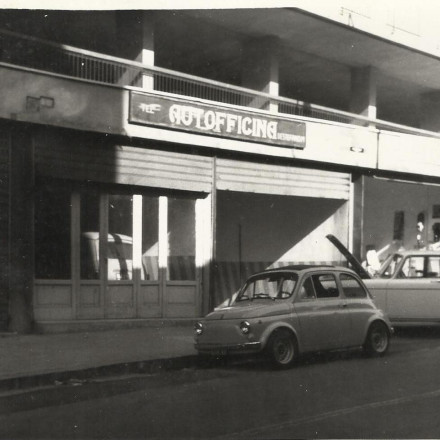 UnAltraEpoca
About this vehicule
Benzin Trusted Seller

Benzin Trusted SellerThis badge reward the sellers who did several transactions on Benzin with very good buyer feedbacks.
Sold to 100Francs
Financing
You can no longer submit a request. Requests can be submitted up to 3 days before the end of the sale.
Newsletter
Un mail par semaine pour ne rien manquer
Currently on Benzin
More on Benzin