Mercedes-Benz 220 Cabriolet A - 1952
Secure Payment
Plus rapide qu'un Panzer, et bien plus classe. Oui, Mercedes nous habitue depuis plus de 100 ans à l'excellence. Et cette rarissime 220 Cabriolet A dans un état remarquable en est la preuve. Benzin
Localisation
France, Saint-Médard en jalles (33)
Livraison
Possible en supp.
Présentation
Cette Mercedes 220 Cabriolet A (type W187) de 1952 affiche 98.500 km. Le vendeur indique que la voiture est en très bon état général et qu'elle a bénéficié d'une restauration il y a une quinzaine d'années. Le véhicule a appartenu de 2007 à 2021 à la même personne.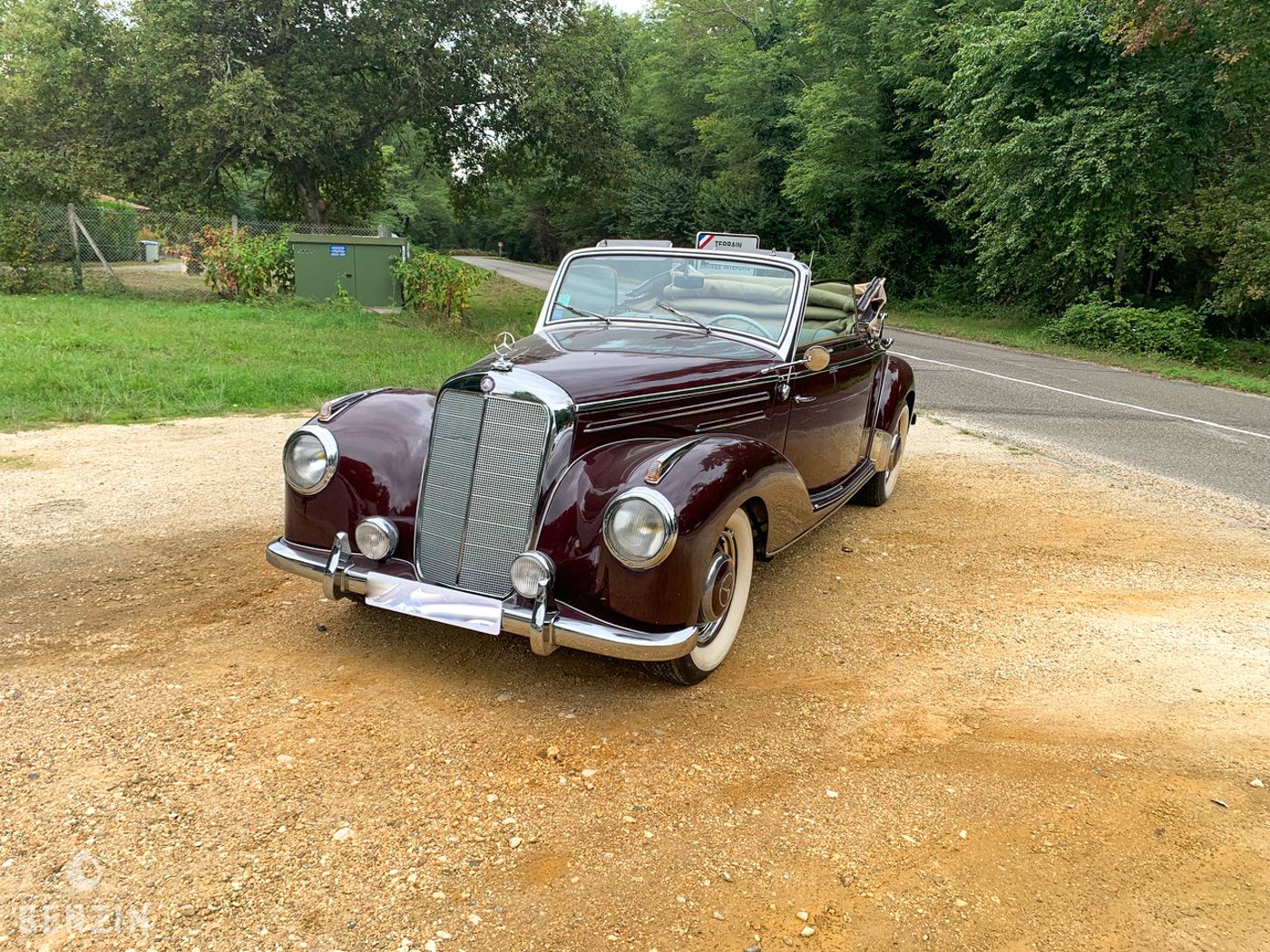 À l'extérieur, la voiture est en très bon état. La peinture dans sa teinte rouge bordeau ne présente que de rares défauts visibles dans la galerie. L'accroc de peinture sur l'aile sera corrigé pour la livraison de la voiture. Les plastiques et joints extérieurs sont en bon état, tout comme les optiques et la capote. Le vendeur indique que le châssis a fait l'objet d'un traitement lors de sa restauration, des photos des soubassements sont disponibles dans la galerie.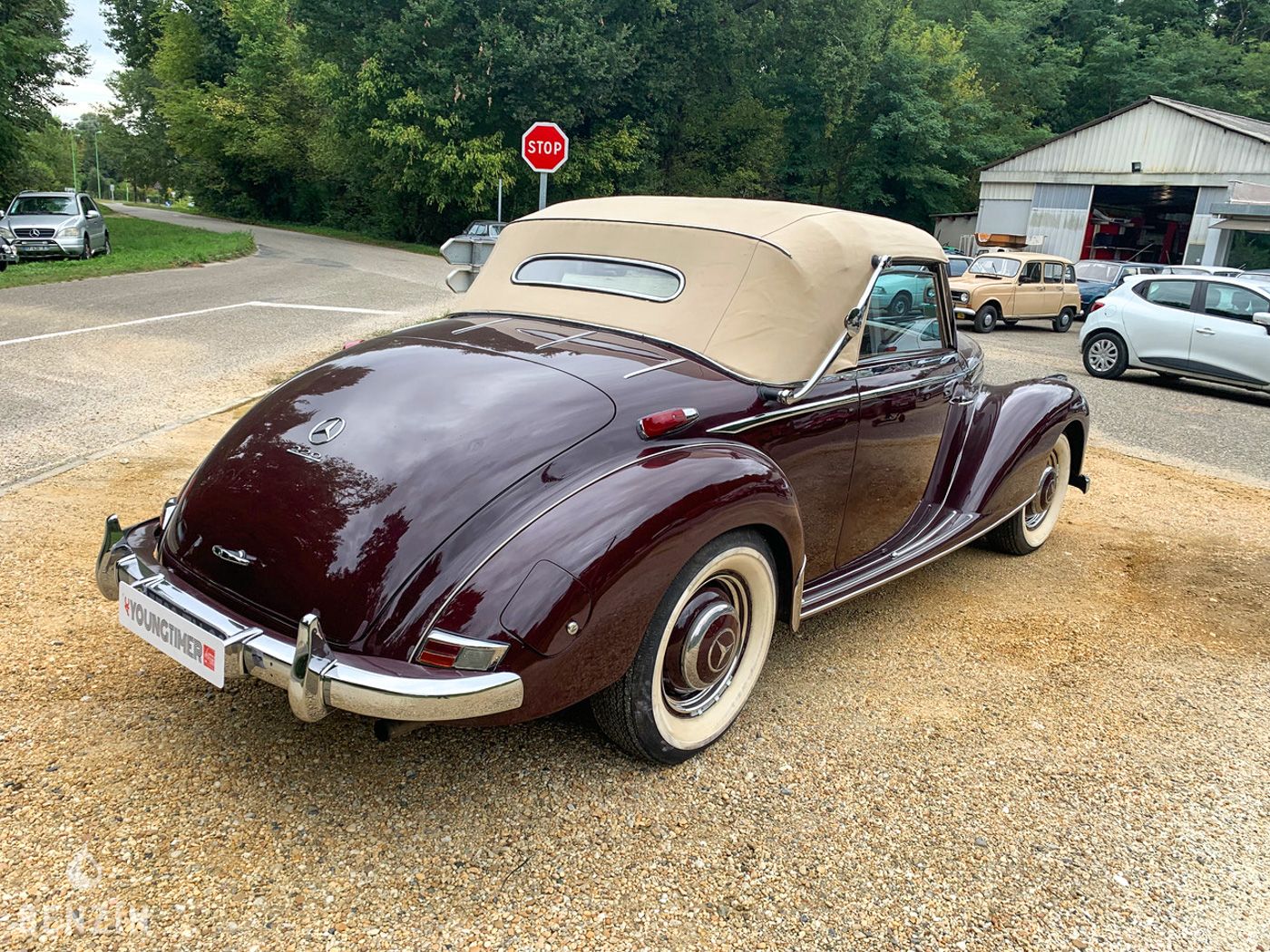 L'intérieur est en très bon état. La sellerie en cuir ne comporte ni déchirures ni trous mais montre de légères traces d'usure. Le volant et le tableau de bord sont en très bon état, notamment les boiseries. L'instrumentation de bord ainsi que les équipements électriques fonctionnent normalement.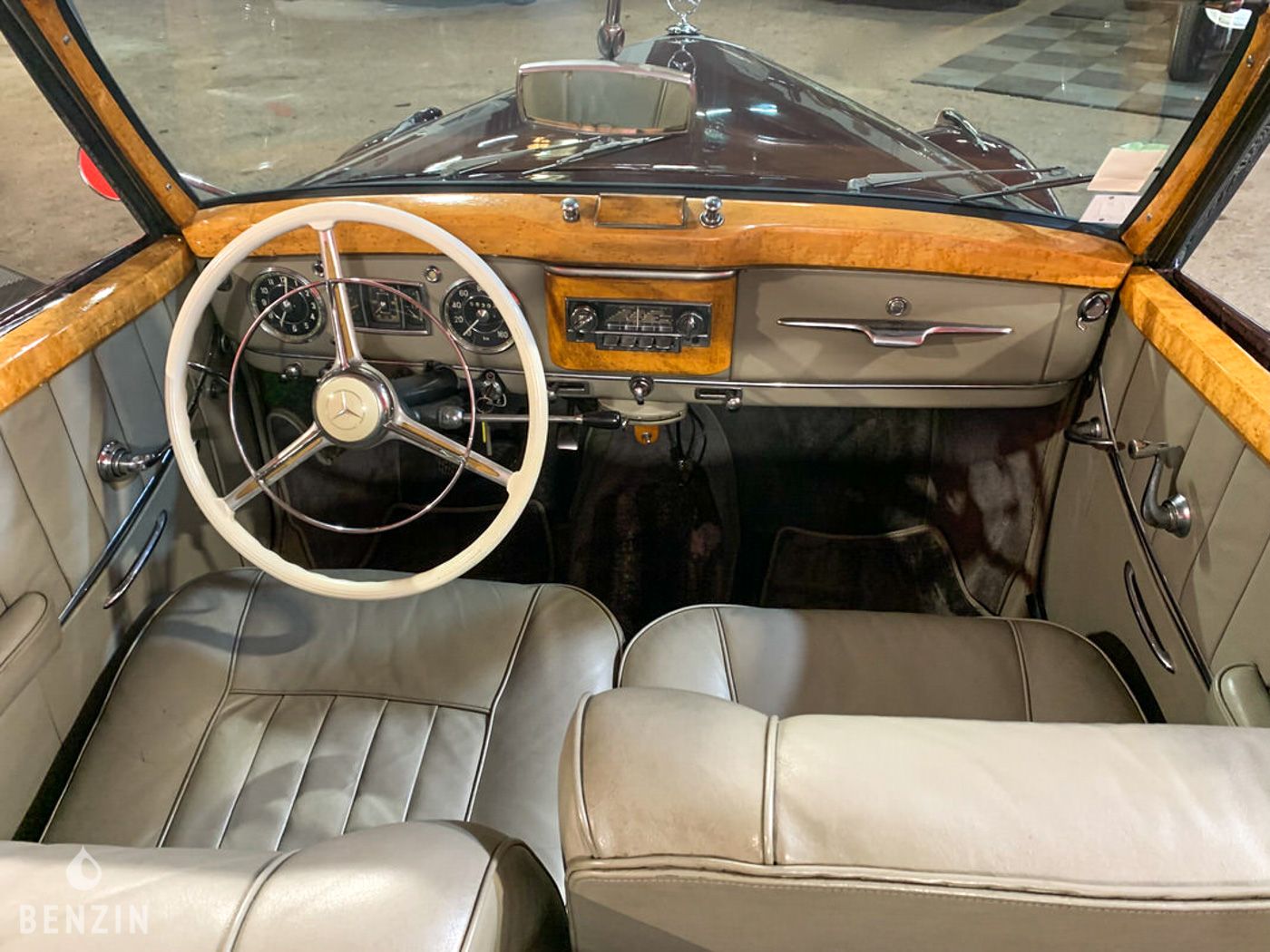 Le 6 cylindres de 2.2 litres développait 79 cv à sa sortie d'usine. Le vendeur indique que la mécanique fonctionne normalement de même que la boîte manuelle. Le moteur est entièrement d'origine. Elle a bénéficiera des frais suivant pour la vente :
- Révision moteur
- Nettoyage du circuit d'essence
- Révision allumage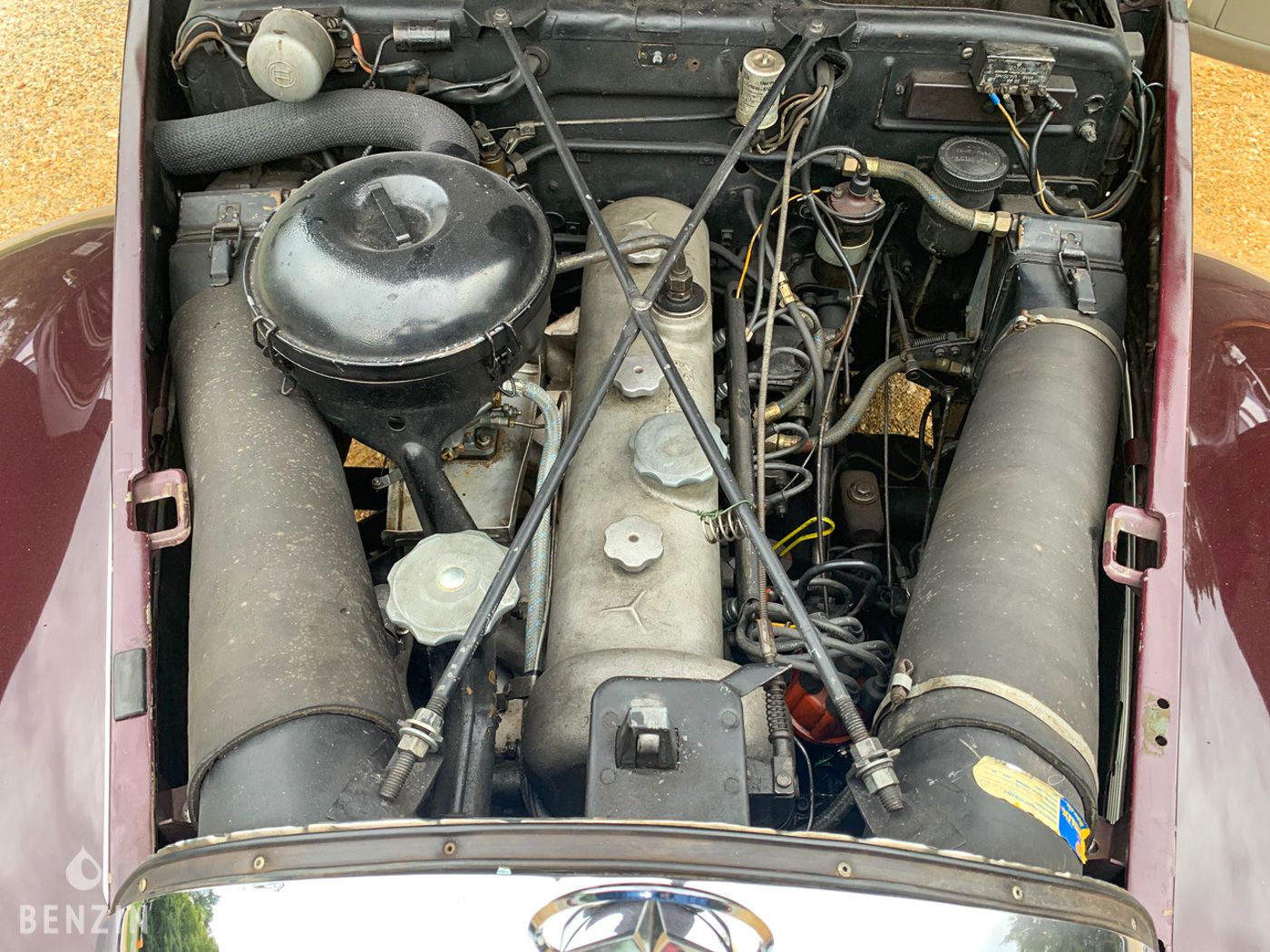 La voiture dispose de ses 4 jantes en très bon état chaussées de pneus en bon état. Une révision des freins sera effectuée pour la vente.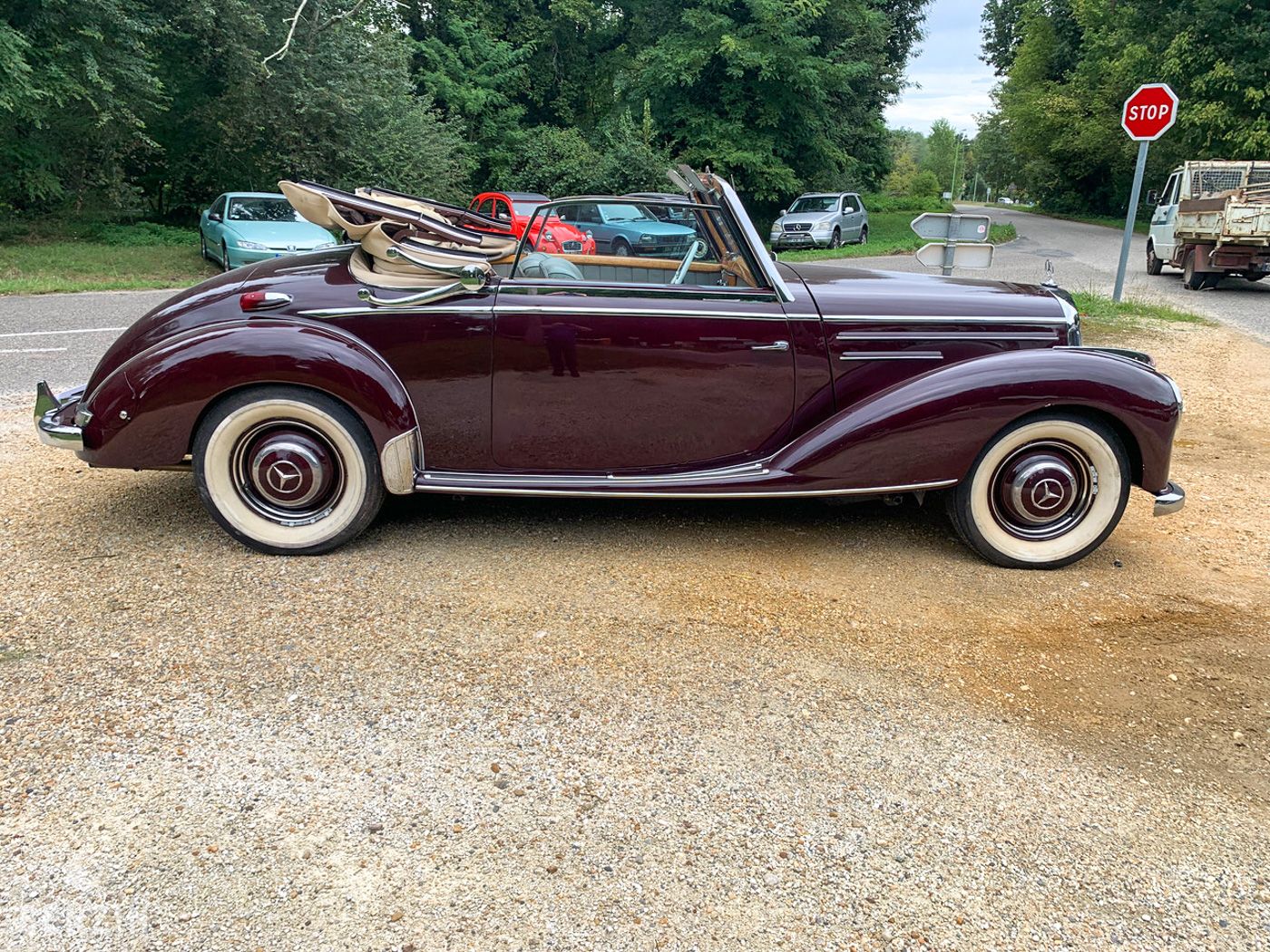 Le vendeur est un professionnel situé en France à Saint-Médard en jalles (33) et accepte les visites pendant la vente. La voiture sera vendue avec sa carte grise française (normale), ses manuels et manuels d'entretien en français (document qui permet de faire tous les travaux avec les consignes du fabricant).
Le vendeur a souhaité définir un prix de réserve.
Auction information
Gallery
Seller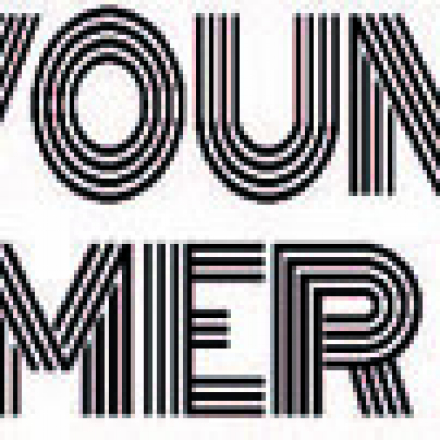 ACY
About this vehicule
Secure Payment

Secure PaymentThis vehicle is eligible for secure payment. You pay for your vehicle via an escrow account
Benzin Trusted Seller

Benzin Trusted SellerThis badge reward the sellers who did several transactions on Benzin with very good buyer feedbacks.
Model page
Mercedes-Benz
Mercedes-Benz Classe 220
Reserve not met
Newsletter
One email per week so you don't miss anything
Currently on Benzin
More on Benzin